Entertainment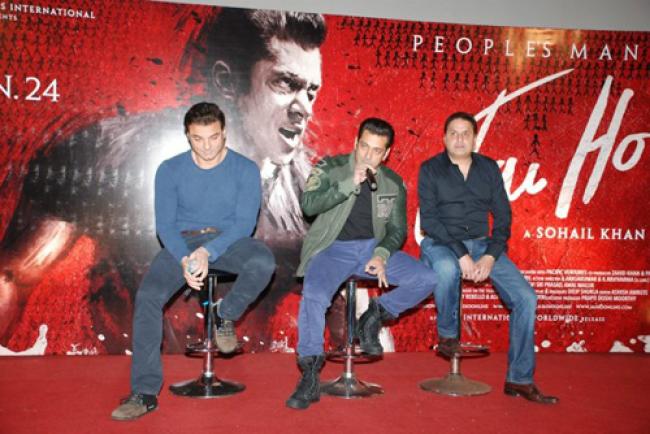 'People made me a star'
Salman Khan is back with his action hero avatar. He promises Jai Ho to be an out-and-out entertainer. An interview____________________________________________________
You are always seen wearing a chain bracelet even in movies. What's the story behind it? Well, my father (veteran screenwriter Salim Khan) wears a similar bracelet and it looks so good on his wrist that one day I took it off his hand and wore it. Later, I made one for myself and since then, I never take it off my wrist.

Even in Jai Ho you are seen flaunting it during your entry.

It was Sohail's (Khan, producer-director) idea. But it was not the first time I did that.

Why was the film's title changed from Mental to Jai Ho?

Mental was a working title. Now there is one intelligent Khan (Aamir Khan), one Badshah Khan (Shah Rukh Khan) and there is one Saif Ali Khan. There will be one or two journalists who will start calling me as Mental Khan. I don't have a problem with that. But the other Khans might have a problem. Also my father had a problem with the title. And as you know, you must listen to your father no matter what your age is. He thought of the present title which is way good than Mental.

Jai Ho comes with a tag – People's Man. How much do you consider yourself as a commoner?
I did not become a star due to my hard work. I was born in this industry and by luck got this platform. I did not take training to become a star. By chance, Sooraj Barjatya signed me for Maine Pyar Kiya (1989), the film did well and I came to be known as Prem (name of my character in the film). So as you can see, I, in no way, contributed to my stardom. It was you people who made me a star. In fact, I have often tried to destroy my image, which also people liked.

But you are a star.
I don't have any addiction to be a star. I don't want to be God. I love roaming around in rickshaws, I ride a cycle. Even when I am driving an AC car, I put the window glass down. I try to lead a normal life. Stardom is happening to me and I am enjoying it. The day there will be no stardom, that day also, I will be enjoying myself. It will hardly make a difference to me.
In Jai Ho you are standing for the people, for justice. Do you believe in protesting in real life?

If you feel something wrong is happening to you, you must raise your voice. Because if you don't protest, then you are to be blamed equally. If a girl is being harassed in public and people are standing there as mute spectators, first that crowd should be beaten up.
When was the last time you stood for justice?

Every single day of my life.

You are considered as the Rajinikanth of Bollywood … you can make the unbelievable believable on screen. Do you agree?
I don't know about that. But if I can come anywhere close to him, I will be happy.