South Asia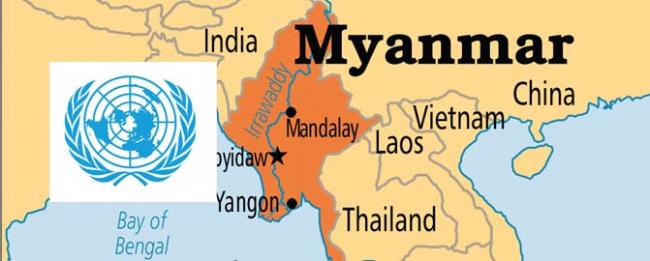 Myanmar: Over 2,000 flee following violence in Rakhine
New York, Jan 12: More than 2,000 people have fled the Myanmar's northern Rakhine state and Bangladesh on boats run by smugglers putting their lives at risk, the United Nations refugee agency said Friday, warning that the situation of those displaced by the violence in Rakhine grows more desperate every day.
At a news briefing in Geneva, a spokesperson for the Office of the UN High Commissioner for Refugees (UNHCR), Adrian Edwards, noted that the final destination of the boats is uncertain, although they are believed to be heading to other countries in Southeast Asia.
"It is unclear how many actually make it to their final destinations, where they often risk arrest, detention and possible refoulement through deportation to Myanmar," Edwards said, referring to the international customary law principle of 'non-refoulement,' which guards against the return of people to countries where, for example, they might be subjected to torture.
"UNHCR continues to seek access to individuals arriving by boat who are arrested and detained by government authorities," Edwards added.
Several waves of clashes between ethnic Rakhine Buddhists and Rohingya Muslims – the first of which occurred in June last year – have left 115,000 people displaced, as well as more than 100 dead, according to UN estimates.
UNHCR fears that more people will undertake the dangerous journey from the Bay of Bengal if there is no imminent end to the violence.
The number of those displaced this month adds to an estimated 13,000 people who left from the Bay of Bengal on smugglers' boats in 2012. At least 485 people were believed to have died or remain missing in four reported boat accidents last year.
However, Edwards highlighted that the real death toll could be much higher. "It is hard to tell due to the clandestine nature of these irregular movements," he said.
Many of the people fleeing are Muslims from Rakhine state and refugees who have been living in Bangladesh.
While most appear to be men travelling alone, Edwards said there are increasing numbers of women and children among smuggled passengers, signalling growing desperation and lack of prospects.
The spokesperson said the UN refugee agency has asked for access to newly-arrived people from Myanmar in Thailand and Malaysia, where it seeks to secure their release if they have been detained.
In Bangladesh, some 30,000 refugees are being hosted in two camps, but many more are living in makeshift sites and among the local communities.
UNHCR is also calling on countries in the region to maintain open borders and ensure humane treatment of people seeking asylum from Myanmar or elsewhere, and reiterated its readiness to support States in assisting refugees.
In addition, the UN agency is appealing to shipmasters to rescue boats in distress.
"We applaud recent government actions to allow for the disembarkation of people rescued by commercial vessels in the Bay of Bengal and call upon all States in the region to act in a spirit of generosity and flexibility should similar situations arise in the future," Edwards said.
He added that in March, UNHCR will co-organize a regional roundtable on irregular maritime movements in the Asia-Pacific, bringing together governments, relevant organizations and other stakeholders to discuss practical regional approaches to the problem.