World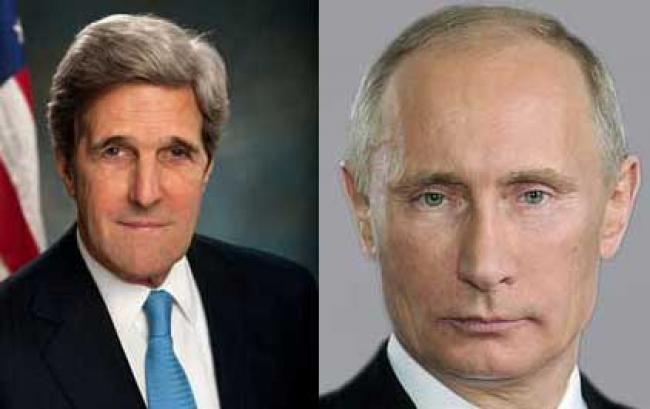 Kerry lied about al Qaeda in Syria: Putin
Moscow, Sept 5: Russian President Vladimir Putin said US Secretary of State John Kerry lied about al Qaeda's presence in Syria.
Speaking to his human rights council, Putin said: "This was very unpleasant and surprising for me. We talk to them (the Americans) and we assume they are decent people, but he (Kerry) is lying and he knows that he is lying. This is sad."

While testifying before the Senate Foreign Relations Committee, Kerry on Tuesday said it is "basically incorrect" that the Syrian opposition has become more infiltrated by terrorist organization al Qaeda.

"I don\'t agree that a majority (of the opposition) are al Qaeda and the bad guys," said Kerry.

However, Kerry acknowledged the presence of al-Qaeda-linked Jabhat al-Nusra group fighting with other groups in Syria.

Meanwhile, Putin has warned the US not to take an \'one-sided\' action in Syria without the approval of the United Nations.

He said military strike on Syria without the UN\'s approval will be "an aggression".

In an interview with The Associated Press and Russia\'s state Channel 1 television, Putin said: "Moscow has provided some components of the S-300 air defense missile system to Syria but has frozen further shipments."

"He suggested that Russia may sell the potent missile systems elsewhere if Western nations attack Syria without UN Security Council backing," said The Associated Press.

"We work, we argue about some issues. We are human. Sometimes one of us gets vexed. But I would like to repeat once again that global mutual interests form a good basis for finding a joint solution to our problems," said Putin.

US President Barack Obama has got the authority to use military force against Syria, but in limited capacity, said reports.

According to reports an US Senate panel has voted (10-7) to give Obama the authority. However, the panel said Obama cannot exceed the military mission beyond 90 days and it cannot involve American troops on the ground for combat operations.

The full Senate is expected to vote on the issue next week.

The US on Tuesday pressed for a military strike on Syria referring to use of chemical weapons by the Syrian government on Aug 21, resulting in a large number of casualties, including the deaths of 1,429 people.

In his opening remarks before the United States Senate Committee on Foreign Relations, Kerry said: "So we're here because against multiple warnings from the President of the United States, from the Congress, from our friends and allies around the world, and even from Russia and Iran, the Assad regime – and only, undeniably, the Assad regime – unleashed an outrageous chemical attack against its own citizens."

"We're here because a dictator and his family's personal enterprise, in their lust to hold onto power, were willing to infect the air of Damascus with a poison that killed innocent mothers and fathers and hundreds of their children, their lives all snuffed out by gas in the early morning August 21," he said.

"Now, some people here and there, amazingly, have questioned the evidence of this assault on conscience. I repeat here again today that only the most willful desire to avoid reality can assert that this did not occur as described or that the regime did not do it. It did happen – and the Assad regime did it," said Kerry.

He further said: "We can tell you beyond any reasonable doubt that our evidence proves the Assad regime prepared for this attack, issued instructions to prepare for this attack, warned its own forces to use gas masks.

"We have physical evidence of where the rockets came from and when. Not one rocket landed in regime-controlled territory. Not one. All of them landed in opposition-controlled or contested territory."

"We have a map, physical evidence, showing every geographical point of impact – and that is concrete," he said.

Kerry said Obama does not want the country to go to war with Syria.

"The President has made crystal clear we have no intention of assuming responsibility for Syria's civil war. He is asking only for the power to make clear, to make certain that the United States means what we say, that the world, when we join together in a multilateral statement, mean what we say.

"He's asking for authorization to degrade and deter Bashar al-Assad's capacity to use chemical weapons," said Kerry.