Bangladesh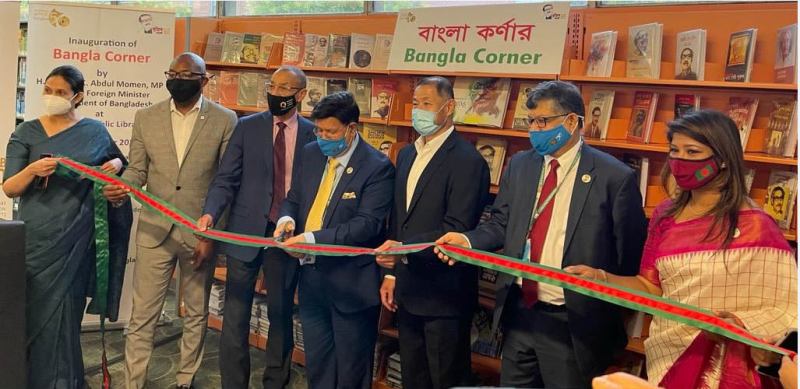 PID
'Bangla Corner' inaugurated at Queens Public Library in New York
Dhaka, September 29: The 'Bangla Corner' has been inaugurated at the Queens Public Library in New York as part of the 'Mujib Borsho' (Mujib Year) and the golden jubilee celebrations of Bangladesh's independence. Foreign Minister Dr AK Abdul Momen inaugurated the corner yesterday at the initiative of Bangladesh Consulate General, New York and in collaboration with Queens Public Library. He was the chief guest at the function organized on the occasion.
Foreign Secretary Masood bin Momen, New York State Senator John C. Liu, Queens Borough President Donavan Richards and Queen's Public Library President and CEO Dennis M. Walcott were present on the occasion. In addition, members of the Bangladeshi-American community, including heroic freedom fighters, and journalists attended the event.
The largest settlement of the Bangladeshi community in the United States is Queens Borough in New York, where Bengali is the fourth largest language after English, Spanish and Chinese. That is why the inauguration of 'Bangla Corner' at the Queens Public Library in the borough is of special significance.
A total of 309 books have been donated by Bangladesh Consulate in 'Bangla Corner'. The books are about Bangabandhu, Bangladesh's freedom struggle and liberation war and the history, heritage and culture of Bangladesh written by renowned writers and literary figures of Bangladesh. In addition, Bangladeshi novels, stories and children's books have been included in this corner.
For three consecutive years from 2019 to 2021, the celebration of International Mother Language Day has aroused a great response by incorporating Queens into the mainstream. Following this, the Consulate for the growing number of Bangladeshi-Americans in Queens took the initiative to establish a 'Bangla Corner' at the Queens Public Library, one of the largest in the United States, on the occasion of the 'Mujib Year'. Although this 'Bangla Corner' was supposed to be inaugurated on a large scale in 2020, it was not possible due to the epidemic of Kavid-19. Later this year, during the UN General Assembly, the 'Bangla Corner' was inaugurated following a limited range of rules regarding Covid.