Bangladesh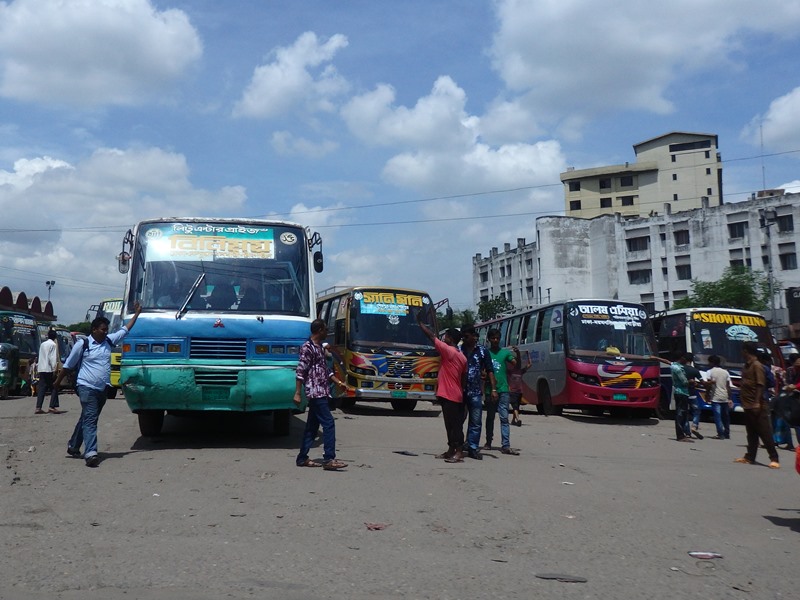 File photo/Wikimedia Commons/mohigan/Panoramio
'City bus' service suspended since night after fuel price hike
Own Correspondent, Dhaka, August 6: The news of the fuel price hike had increased the number of cars and bikes at the filling stations of the capital. On the other hand, the road became empty as the bus owners had stopped transport after getting the news about the increase in fuel prices. As a result, city buses plying from one end of the city to the other were not seen on the road from 11 pm. Due to the sudden suspension of the bus, the city people were in a lot of trouble.
On Saturday (August 6) night, no city bus was seen plying from Farmgate, Karwan Bazar, Banglamotor, Moghbazar, Kamalapur Railway Station and Syedabad Bus Stand in the capital. However, the long-distance buses left as per the schedule. The bus drivers, supervisors and ticket sellers were very confused about whether the buses will leave in the morning.
Various areas were visited at night, and buses plying in the capital were lined up on both sides of the road. Talking to the driver-helpers in this regard, it is known that the sudden increase in the price of diesel will not be possible for the buses to transport passengers at the previous fare. Therefore passenger transport has been suspended for the time being.
Tanveer, a supervisor at Syedabad bus stand of Shyamoli Paribahan which operates on the Dhaka-Chittagong route, said that so far the buses have left properly. "I heard that the price of diesel has increased at night. The owner has not yet decided whether the buses will depart again from tomorrow morning."
He also said, "From our previous experience, we can say that due to the sudden increase in the price of fuel, it will not be possible to transport passengers at the previous fare on Saturday. Surely the owner will not want to transport passengers on every bus at a loss."
Helper Mamun of bus no. 6 operating in Dhaka City said, "Our buses usually stop by 10 pm. I heard that fuel prices have increased since Friday night. Haven't received any instructions yet. But it seems that the bus will not run at the previous fare from the morning."
Suprabhat Paribahan bus driver Mahbub said this is the last trip today. If the fare is not adjusted, it seems that the bus will not run from tomorrow.
Meanwhile, people who entered the capital at night from different parts of the country are in trouble. They are not getting any buses plying in the city, they are forced to ride CNG and motorcycles.