Bangladesh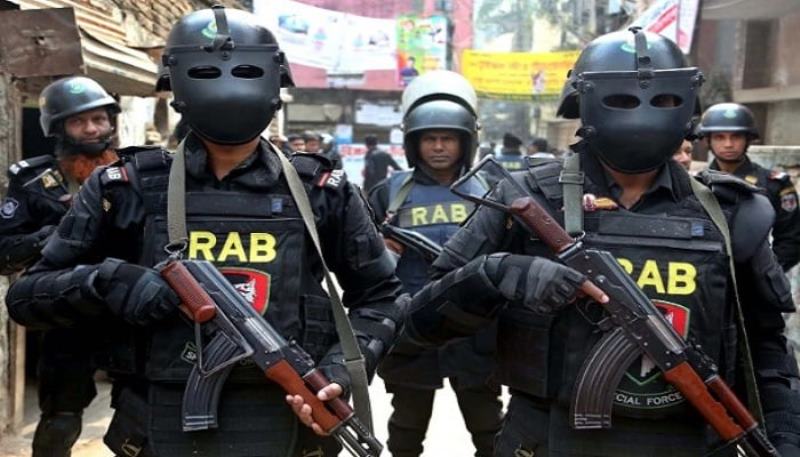 'City Shaheen' killed in shootout with RAB
Own Correspondent, Dhaka, Nov 11: RAB said that an accused of 23 cases named City Shaheen (35) was killed in a 'gunfight' with RAB in Rupganj Chonpara of Narayanganj. About 45 grams of heroin, a pistol, and three rounds of bullets were recovered from the spot.
According to RAB, City Shaheen and his armed group of 10/12 people sensed the presence of RAB and fired at them. Shaheen was shot dead when RAB fired back in self-defence. He later died while undergoing treatment. RAB also said that five members of RAB were injured in this incident.
RAB-1 captain Lt. Col. Abdullah Al Momen confirmed this information on Thursday (November 10) night.
He said that Shaheen is an identified drug dealer. He has been wanted for a long time. After confirming the location of City Shaheen based on secret information, RAB-1 raided Chonpara slum on Thursday afternoon. Sensing the presence of RAB, City Shaheen and his armed group of 10/12 men fired at RAB.
Shaheen was shot in the leg when the RAB fired back in self-defence. Later, when he was taken to Mugda General Hospital, he was declared dead by the doctors on duty at 4:20 pm while under treatment.
Lieutenant Colonel Abdullah Al Momen also said that there are a total of 23 cases against CT Shaheen. Among them, there are 23 cases against him, including two murder cases, three attempted murder cases, drug, women and child abuse, assault on police, sexual assault and weapons cases.
The captain of RAB-1 said that when Shaheen was being taken to the hospital in an injured condition, his team chased the microbus using CNG. When the microbus stopped and caught them, they ran away.