Bangladesh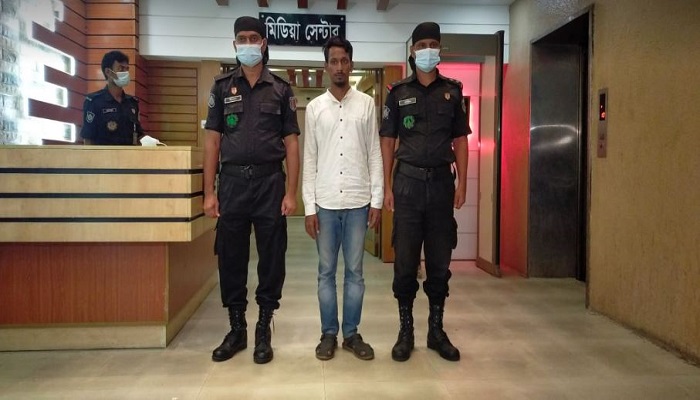 Collected
'Made in China-Finland' written phones were manufactured in Gulistan
Dhaka, August 9: RAB-3 recovered a large quantity of fake mobile phones and equipment from a factory in Gulistan of the capital. At that time, Md. Swapan (26), the owner of the factory and the main maker of fake mobiles, was arrested.
RAB said that 50 mobile phones were manufactured in this factory a day even though there was no approval from the concerned government agency. Swapan used to sell more than 200 mobiles a day. Mobile phones were manufactured with fake IMEIs at Swapan's factories by bringing various mobile parts, which were passed on to common consumers and criminals through retailers in various parts of the country.
Commander of RAB-3 Lt. Col. Arif Mohiuddin Ahmed gave this information at the organization's media center at Karwan Bazar in the capital on Monday (August 8) afternoon.
Around 1,500 mobile phones, 3,370 fake batteries, 120 headphones, 385 charger cables, 1,155 fake chargers, seller machines, hit guns, 43 mobile phone displays, 10 electric sensors, IMEI were seized in RAB's operation with the support of Bangladesh Telecommunication Regulatory Agency (BTRC). A large number of fake IMEI stickers, fake barcodes and 13 cutting machines. were also seized.
Arif Mohiuddin Ahmed said, working as a peon in a private office, Swapan was interested in technology since his childhood. He got to know a mechanic from Gulistan area through someone's mobile phone repair. Then through that mechanic, Swapan came to know that the mobile phone repair business is profitable. He then began learning to work as a mechanic at a service shop without pay. Later, Swapan gained a lot of skills in mobile servicing. Also watch various videos online to learn about it. At one point, Swapan himself started making mobile phones and changing IMEI numbers by bringing parts from different countries.
He said Swapan can make 50 mobiles per day. He had a few other associates in the factory. The operation to arrest them is ongoing. The mobile made in Swapan's factory used to be bought by traders from different parts of the country. With the help of the mobile sealer and heater machine made in his factory, the names of different countries such as Made in China, Made in Vietnam, Made in Finland were written on the mobiles and packaged like real mobiles.