Bangladesh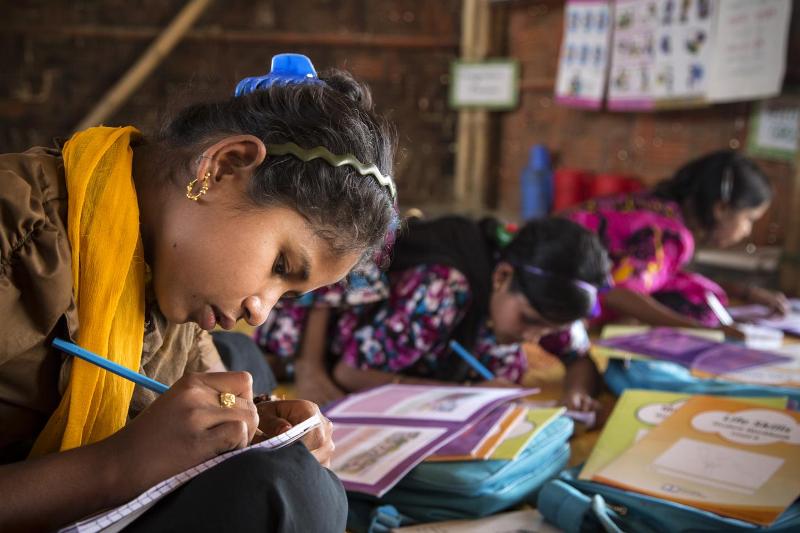 File photo
10,000 Rohingya children under new curriculum
Own Correspondent, Dhaka, May 2: The United Nations Children's Fund (UNICEF) said about 10,000 Rohingya children living in a refugee camp in Bangladesh's Cox's Bazar are being enrolled for education according to their country's (Myanmar) curriculum.
The organization also called it a landmark achievement in ensuring the education of Rohingya children.
In a statement issued on Sunday (May 1), UNICEF said that the milestone of enrolling the first 10,000 children would be achieved this month.
The Myanmar Curriculum Pilot (MCP), launched by UNICEF and Partners in November 2021, is an important step in ensuring the basic right to education of Rohingya refugee children, which will help prepare them for their return to Myanmar.
Sheldon Yett, UNICEF Representative in Bangladesh, said there was a great need for education among Rohingya refugee children and that UNICEF and its development partners were working in refugee camps to respond to that demand.
According to UNICEF, there are about four lakh school-age Rohingya children in refugee camps in Bangladesh. Of these, three lakh children are studying in educational centers. UNICEF and other development partners are conducting extensive educational activities in the world's largest refugee camp. There are 3,400 educational centers across multiple camps, of which 2,800 are supported by UNICEF.
According to UNICEF, the piloted Myanmar curriculum is initially targeted at 10,000 children in the sixth to ninth grades. Usually 11-14 year old children fall under 6th to 9th grade. In reality, however, many Rohingya refugee children are left behind in education. For this reason, most of the children admitted in 6th to 9th grade are 14-16 years old. Some of them are slightly younger and some are older.
UNICEF aims to expand this curriculum in phases so that by 2023, all refugee school-age children can receive education in accordance with their country's curriculum.