Bangladesh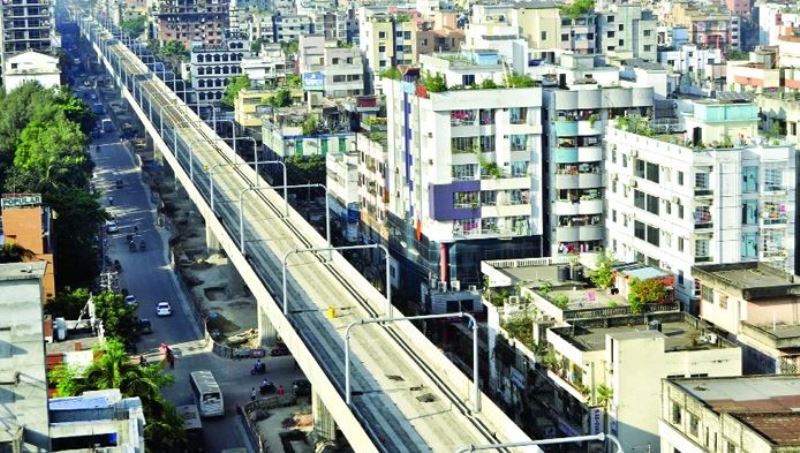 Collected
11.73 kms of Dhaka Metro Rail viaduct visibile
Dhaka, March 1: On Sunday (February 28), the last day of February, the last viaduct of the Agargaon section of the Metro Rail from Diabari in Uttara was installed. The Uttara-Agargaon section of the Metro Rail became fully visible with the installation of 11.73 km viaduct.
The viaduct is the part placed on the pillars of the metrorail line. On which the railway line is being laid. Metro train will run along that line. Although the viaduct can be seen from below, the railway line cannot be seen.
"We will complete the construction of the first part (Uttara to Agargaon) viaduct by February," said MAN Siddique, managing director (MD) of Dhaka Mass Transit Company (DMTCL) on February 17 after inspecting the Metro Rail's Diabari depot area.
The last viaduct of this part was installed on Sunday. On the other hand, on the occasion of the 50th anniversary of Metro Rail independence in the Uttara-Agargaon section, it will be launched on December 16, said the MD of DMTCL.
It can be seen on the spot that the latest viaduct of the metro rail from Agargaon to Uttara Diabari has been installed at the second gate of Begum Rokeya Sarani adjacent to the Ministry of Planning in Sher-e-Bangla Nagar. The Agargaon office of Metrorail is in front of where the latest viaduct has been installed. Public access to the viaduct installation is prohibited. According to the workers there, the last viaduct of Uttara-Agargaon was installed in front of the media in the presence of DMTCL MD MAN Siddique at around 11 pm.
According to DMTCL, 11.58 kms viaduct was installed from north to Agargaon till January. On February 28, it became 11.73 kilometers. On the other hand, till January, 390 m viaduct was installed within 3.195 km from Agargaon to Kawran Bazar. A 450 m viaduct was installed in a distance of 4.922 km from Kawran Bazar to Motijheel.