Bangladesh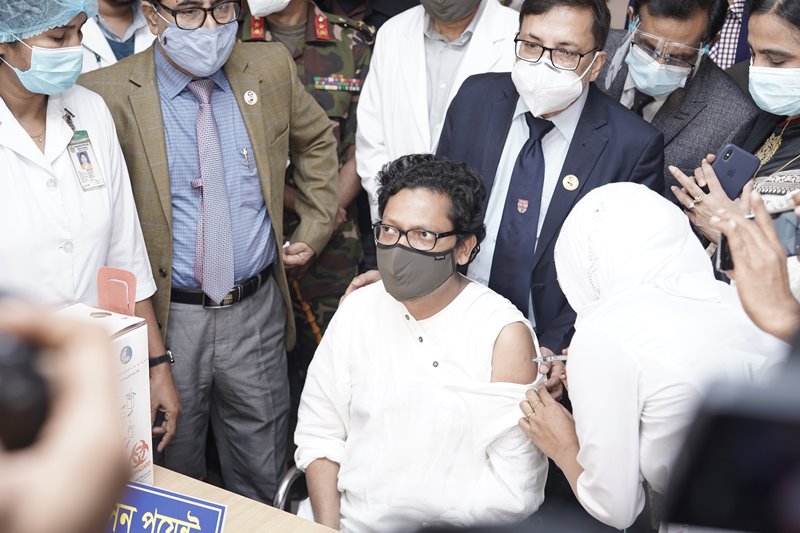 twitter.com/zapalak
125 people including state minister Palak get vaccinated at BSMMU
Dhaka, January 28: At least 125 people, including state minister Zunaid Ahmed Palak, were vaccinated at the Bangabandhu Sheikh Mujib Medical University (BSMMU) on Thursday.
BSMMU Vice-Chancellor Prof Dr. Kanak Kanti Barua inaugurated the program after receiving the first vaccine at the Bangabandhu Conference Center opposite Intercontinental in Shahbag at 9:10 am.
State Minister for Information and Communication Technology Junaid Ahmed Palak took the vaccine at 10:40 am. After that at 11 o'clock the Secretary of the Health Services Department of the Ministry of Health and Family Welfare Md. Abdul Mannan and Information Secretary Khwaja Mia took the vaccine.
One hundred and twenty-five people were vaccinated against the coronavirus infection till 11:15 am. The three vice-chancellors of the university, Prof. Dr. Rafiqul Alam (Administration), Prof. Dr. Shahana Akter (Education) and Prof. Dr. Zahid Hossain (Research), Treasurer Mohammad Atiqur Rahman and Director of the Hospital Brigadier General Zulfiqar Ahmed Amin also took corona vaccine.
After taking the vaccine in the morning, Dr. Kanak Kanti Barua said, "It is my social, state and personal responsibility to get vaccinated. People will get confidence and courage when they see me. Many people have gathered here today. Until yesterday (Wednesday) people had doubts whether to get vaccinated or not. Doubts have begun to fade. That's what we want."
Meanwhile, to make the vaccination program a success, four booths have been set up at the Corona Vaccination Center in a well-equipped building at the Convention Center of Bangabandhu Medical University on the opposite side of Hotel Intercontinental. A few beds have also been set up for vaccination. Crowds have also been noticed for vaccination registration. Vaccination is being carried out in five hospitals in the capital on Thursday, the second day of the corona vaccination program.
Earlier, Prime Minister Sheikh Hasina inaugurated the corona vaccination program in the country at 3:30 pm on Wednesday. Following the inauguration by the Prime Minister, five people were vaccinated at Kurmitola General Hospital in the capital. The first vaccination was given by Runu Veronica Costa, a nurse at Kurmitola Hospital.
Doctor Ahmed Lutful Moben, Additional Director General of the Health Department Prof Nasima Sultana, Motijheel Division Officer of the Traffic Police Didarul Islam and Brigadier General M Imran Hamid were vaccinated apart from Runu. In all, a total of 26 people from different walks of life were vaccinated at Kurmitola General Hospital.