Bangladesh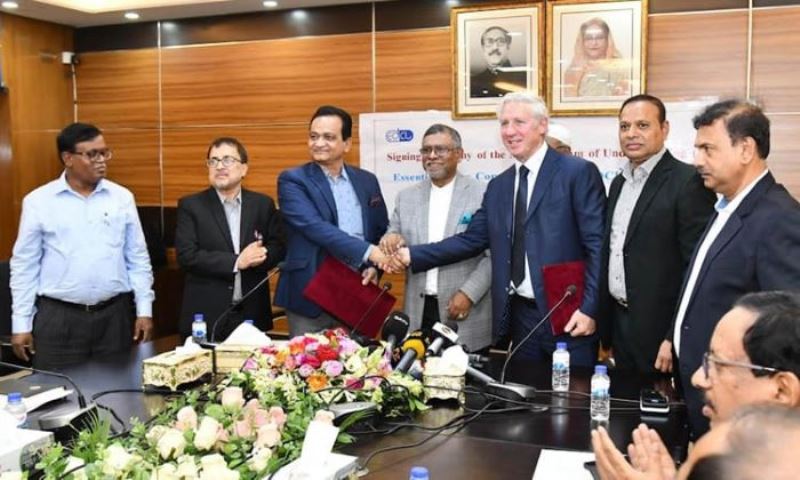 Photo: Collected
13 types of vaccines will be produced in Bangladesh: Agreement signed with DII of America
Dhaka, June 22: A Memorandum of Understanding (MoU) has been signed between state-run drug manufacturer Essential Drugs Company Limited (EDCL) and US-based company Dyadic International to manufacture 13 types of vaccines, including Covid vaccine, in the country. This memorandum of understanding (MOU) was signed in the meeting room of the Ministry of Health on Wednesday.
Under the MoU, America's Dyadic International will provide necessary technical assistance in vaccine production, storage and quality control in the country.
Health and Family Welfare Minister Zahid Maleque, Health Services Department Secretary Dr. Mu Anwar Hossain Hawladar, Health Directorate General ABM Khurshid Alam, Dyadic International Inc. CEO Mark Emalfarb, Health Directorate General Professor Dr. Abul Basar Khurshid Alam, BSMMU Vice Chancellor Professor Dr. Sharfuddin Ahmed and Managing Director of EDCL Dr. Ehsanul Kabir and others were present.
On the occasion, the health minister said that the vaccine plant will be set up on an area of about nine acres in Gopalganj. Land has already been acquired. Around 13 types of vaccines including corona vaccine will be manufactured here.
Zahid Maleque said, "Only five countries in the world can produce this quality vaccine. If we also go into production, we can meet the needs of the country and earn a lot of foreign currency by exporting vaccines abroad. With this, many jobs will be created in our country."
Speaking about America's Dyadec, the minister said, they will provide us with technical assistance, manpower and training assistance. Here they will have no partnership. The vaccines that will be manufactured here will be of international standards. They will help us in this regard.
The health minister said, we hope that we will be able to go into production in the next four years. In this plant we will first produce the corona vaccine and gradually all the vaccines we need.
Prof. Dr. Ehsanul Kabir, Managing Director of EDCL and Mark Emalfarb, CEO of Dydic International Inc. signed the MoU on behalf of Essential Drugs Company Limited.