Bangladesh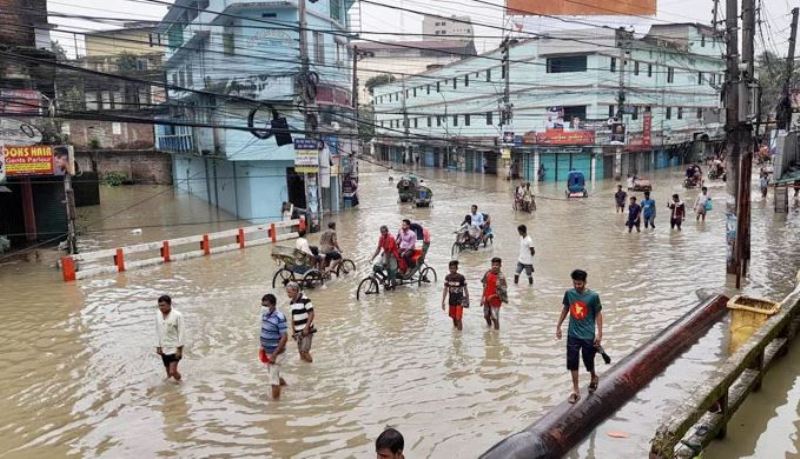 Photo: Collected
15 lakh people stranded as flood waters rise in Sylhet
Own Correspondent, Dhaka, May 19: Although there is no rain, the flood situation in Sylhet has deteriorated due to the mountain water coming down from the upper reaches of India.
Flood waters rose by two more inches in Sylhet city from morning till noon on Wednesday (May 18). Besides, flood waters are also increasing in eight upazilas of the district.
In this situation, about 15 lakh people of Sylhet district and metropolis have become waterlogged. These flood-affected people are in dire need of clean water and dry food.
At noon on Wednesday (May 18), more new areas of the city were flooded. Roads are being submerged. Apart from government and non-government institutions, many educational institutions have also been found submerged. The city dwellers have fallen into extreme suffering. In this situation, 16 shelters, including 15 schools, have been opened in the city. The people in the shelters are also in food crisis.
Ward 10 of the city corporation has been affected the most by the floods in the city. It is being said by miking from the mosque of this ward that the flood water is rising fast. They are asking people to leave the household items safe and go to the shelters.
Sylhet Deputy Commissioner and District Magistrate Md. Mozibor Rahman said, "Even if water rises in some government establishments, the service is not being disrupted. The normal activities of all the organizations are continuing. However, several educational institutions have been closed."
The deputy commissioner said 199 shelters had been opened in the flood-hit district, adding that food had also been provided at these shelters. In addition, UNOs have been instructed to monitor the situation round the clock.
In the third phase, 100 tonnes of rice and 3,000 packets of dry food have been allocated for the flood victims. In the second phase, 129 tonnes of rice and 1,000 packets of dry food were distributed. Earlier, in the first phase, 109 tonnes of rice and 1,000 packets of food were allotted, the district administration said.