Bangladesh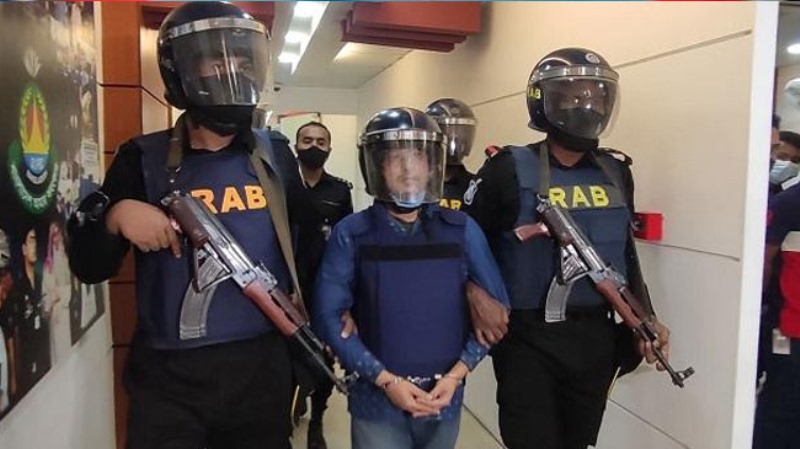 Collected
21 August grenade attack convict arrested by police
Dhaka, February 23: RAB has arrested Iqbal, who was sentenced to life imprisonment in the August 21 grenade attack case. He was arrested from Diabari in the capital. Iqbal took part in the direct attack that day. During the attack, he threw a grenade at the stage.
RAB Director General (DG) Chowdhury Abdullah Al-Mamun made the remarks at a briefing at the RAB Media Center in the capital's Kawran Bazar on Tuesday (February 23rd).
He further said that Iqbal went into hiding in disguise at home and abroad. He changed jobs more than once while in hiding. He even changed his name while abroad.
Citing information obtained from Iqbal during the preliminary interrogation, the RAB DG said that the name of the militant Iqbal's father was Abdul Majid Mollah. His home is in Jhenaidah. His educational qualification is SSC pass. While studying in school-college, he was involved in student politics. He said that he was an elected class representative of KC College, Jhenaidah in 1994. Iqbal was an expatriate worker in Malaysia from 1995 to 1998. Returning to the country, the militant Iqbal runs ISD phones and other businesses.
He added, "During his stay in the country, Iqbal got involved in conflicts with the proletariat and local influential people and his thinking changed psychologically in 2001. He joined Harkatul Jihad Bangladesh through a local militant member from Jhenaidah. In 2003 he joined Mufti Hannan and others. Top leaders approach and take militant training."
According to the RAB DG, he came to Dhaka in August 2004 on the instructions of Mufti Hannan and stayed in a secret dormitory. There Hujibi formed deep ties with others, including Mufti Hannan. He used to attend secret meetings with Mufti Hannan at various places.
He said about the grenade attack on August 21 that he took direct part in the grenade attack on August 21 on the instructions of Mufti Hannan. He mentioned that Mufti Hannan had provided him with grenades to carry out the attack. During the attack, he aimed a grenade at the stage. After the incident, he went to Jhenaidah and went into hiding.
While in hiding, he (Iqbal) said he was disguised as a security guard, worker, rickshaw mechanic and so on.