Bangladesh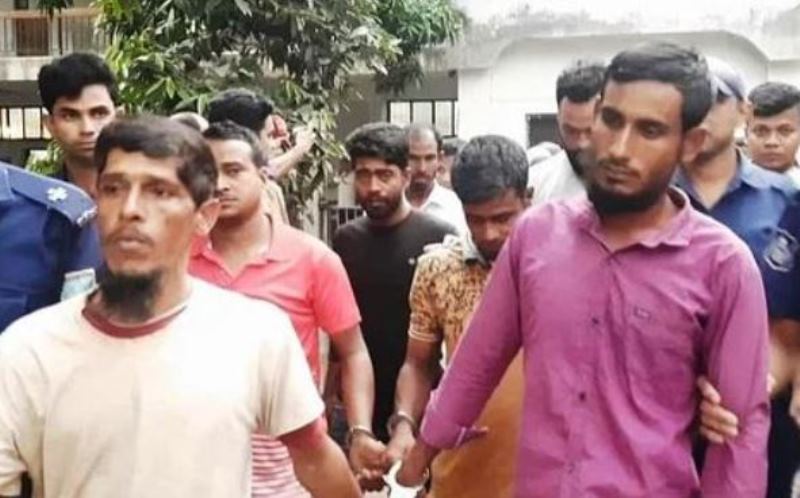 Photo: Collected
23 people sentenced to death in Madaripur's Rajib murder case
Dhaka, March 22: The court sentenced 23 people to death and six to life imprisonment in Madaripur's Rajib Sardar murder case. At the same time, each was fined Tk 50,000.
Madaripur Additional District and Sessions Judge Court Judge Lailatun Ferdous announced the verdict on Tuesday (March 21) afternoon. At that time, the court acquitted four people. Madaripur Court Public Counsel (PP) Advocate Siddiqur Rahman Singha said this.
Those sentenced to death are Jasim Howlader, Monir Howlader, Suman Sharif, Sagar Sharif, Hafizul Kazi, Kalu Kazi, Alauddin Kazi, Tushar Sharif, Yusuf Howlader, Azizul Howlader, Abdul Hai Howlader, Abdul Haque Howlader, Zahirul Howlader, Russell Howlader, Raja Howlader, Kalu Howlader, Sobhan Howlader, Rahim Howlader, Rezaul Howlader, Shamim Howlader, Ahad Howlader, Daliluddin Howlader, and Aliluddin Howlader.
Seken Howlader, Ujjwal Howlader, Nurul Amin Howlader, Bakibilla Howlader, Jamal Howlader, and Rubel Howlader were sentenced to life imprisonment. The deceased Rajib Sardar was the son of Enamul Haque Sardar of Charjhautla village of Madaripur Kalkini.
According to court sources, on the morning of September 1, 2012, Rajib Sardar was returning home after working at the nursery of his uncle Ali Howlader. At that time, when he came to the Harikumariya area of Madaripur town, he was stabbed with a sharp weapon. Rajib was rescued and first admitted to Madaripur Sadar Hospital. Later he died on the way to Dhaka Medical College (DMC) Hospital.
In this incident, Ali Howlader, the deceased's uncle became the plaintiff and three days after the incident, filed a murder case at Madaripur Sadar Model Police Station, accusing Jamal Howlader, Rahim Howlader, Ashad Howlader, and 47 others. After the case, the then sub-inspector of Sadar police station Rajib Hossain investigated. On December 31, 2012, he submitted the charge sheet to the court accusing 36 people. After that, the court took the testimony of 13 people including the investigating officer of the case.
After 11 long years of arguments, the court announced the verdict based on the witness evidence. At that time 22 accused were present in the court.