Bangladesh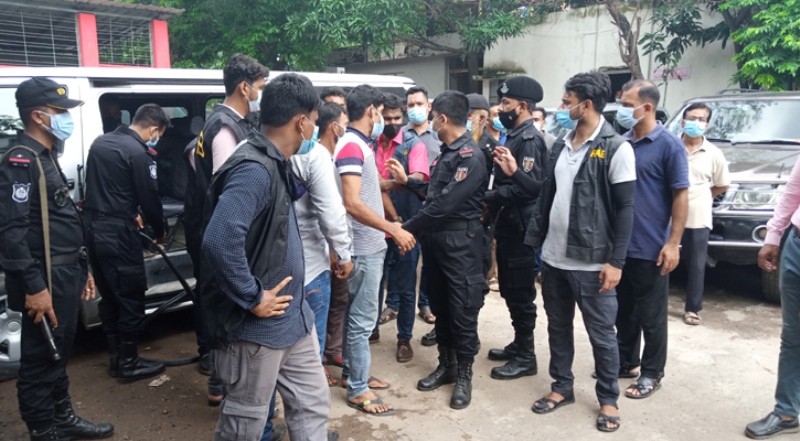 Collected
24 middlemen arrested by RAB in DMC, sentenced to one month imprisonment
Dhaka, June 10: A mobile court of Rapid Action Battalion (RAB) has arrested 24 brokers in a raid at Dhaka Medical College (DMC) Hospital. RAB executive magistrate Palash Kumar Basu, who conducted the operation, sentenced each of the detainees to one month in jail.
Magistrates, RAB and hospital representatives were present during the three-hour operation on Thursday (June 10) from 11:30 am to 2:30 pm. The mobile court's operation against the middlemen at the DMCH will continue, the executive magistrate said.
At the end of the operation, the executive magistrate said that the operation was conducted on the basis of specific data. These brokers would take the innocent patients to various private hospitals, clinics and diagnostic centers at a lower cost than the government hospitals for examination and speedy surgery with eminent professors. He said they had all confessed to the allegations after their arrest in Hatena.
It is learned that an organized gang has formed around DMCH-1, 2 and Burn and Plastic Surgery Institute. From dawn till late at night, the members of this gang go around the emergency department, outpatient department, OT, ICU, ward and cabin of DMCH with cards, slip pads etc. of various small and big hospitals, clinics and diagnostic centers.
Most of the innocent, poor and helpless people who come to the hospital for treatment are tempted to undergo low cost examination and surgery by targeting those who know nothing about the medical system and using them as relatives. Many times these brokers take patients away from the emergency department and outpatient department. Again they target patients by going from ward to ward. Especially by going to the patients waiting for the surgery and showing the temptation of quick surgery with a good professor for a small amount of money. Without realizing it for a long time, he went to a private hospital with them and got admitted after depositing less money. The authorities of the private hospital took money from the relatives of the patient in various ways.
Despite the availability of all kinds of tests at the DMCH, these brokers visit the wards and collect samples for quick reporting. Several doctors and nurses of the DMCH hospital said that due to these brokers, the work could not be done properly.
There are allegations that a class of dishonest officials and employees of the hospital and the members of the duty Ansar are indirect patrons of this gang. They took the opportunity to visit the hospital with regular money from the brokers.