Bangladesh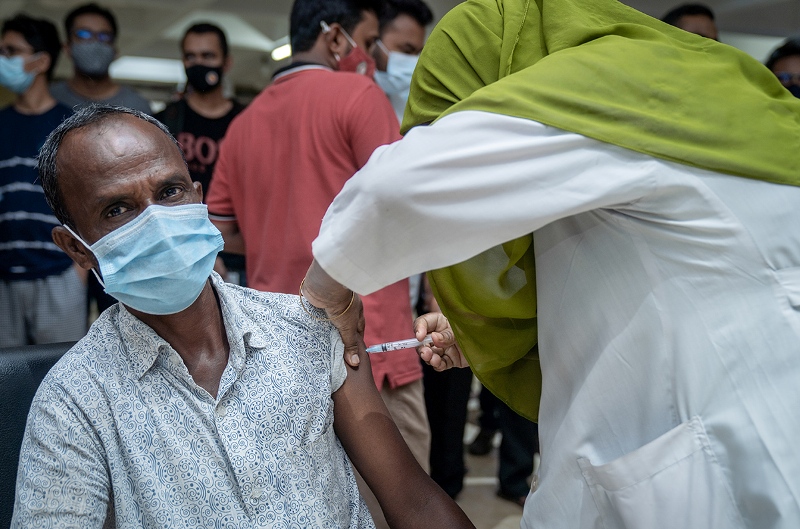 File photo/Wikimedia Commons/USAID
26 crore 4 lakh vaccine doses administered
Own Correspondent, Dhaka, May 24: The Covid-19 vaccination drive is underway in the country. The Directorate General of Health Services (DGHS) said a total of 26 crore 4 lakh 35 thousand 914 doses of vaccine have been administered so far since the beginning of the vaccination programme.
This information is known from the press release regarding corona vaccination issued by the DGHS. According to the notification, 12 crore 87 lakh 24 thousand 24 people have taken the first dose of vaccine since the beginning of vaccination programme in the country. Besides, 11 crore 72 lakh 86 thousand 948 people have taken two doses of vaccine, and one crore 44 lakh 24 thousand 942 people have taken the booster dose of Covid vaccine.
It further said that in the last 24 hours (Monday), the first doses were given to 8,323 people across the country while 59,874 people were jabbed with the second dose. Besides, booster dose was given to one lakh 27 thousand 168 people at this time. Vaccines of Oxford-AstraZeneca, Synoform, Pfizer, Moderna and Johnson & Johnson are being administered.
Vaccination of 12-17 years old students started in Bangladesh on November 1. One crore 73 lakh 22 thousand 831 of them have been vaccinated so far. The second dose has been given to one crore 59 lakh 18 thousand 228 people.
According to the DGHS, two lakh 25 thousand 945 people of the country's floating population have been vaccinated so far. They have been jabbed with a single dose of Johnson & Johnson.