Bangladesh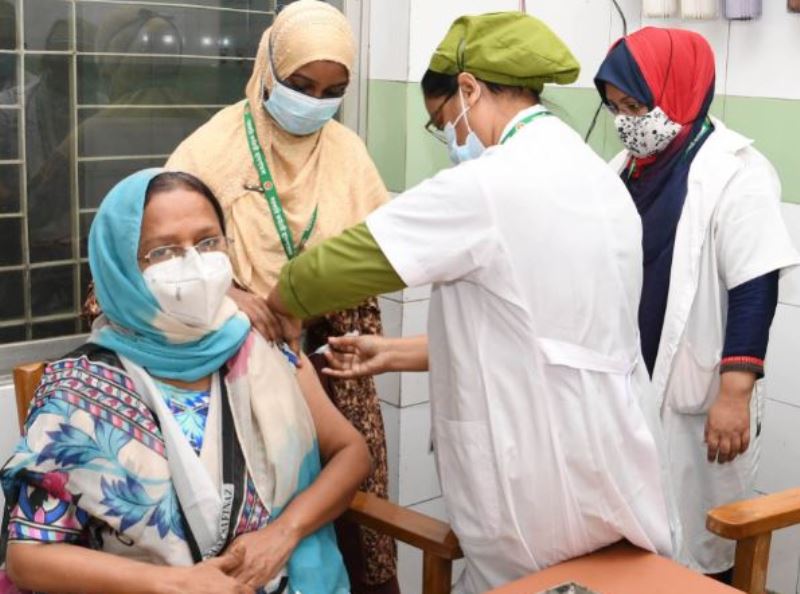 Collected
40-year-olds can also register for the coronavirus vaccines: Officials
Dhaka, February 8: Cabinet Secretary Khandker Anwarul Islam has said that even 40-year-olds can also register for the coronavirus vaccine. According to the earlier decision, no ordinary citizen below the age of 55 could register for vaccination unless it was listed as a priority.
The cabinet secretary made the remarks at a briefing at a cabinet meeting at the secretariat on Monday (February 8). Khandker Anwarul Islam also said that if one fails to register before, he/she can get vaccinated with national identity card.
A virtual cabinet meeting was held under the chairmanship of Prime Minister Sheikh Hasina.
The cabinet secretary said, "The issue of vaccination has been discussed in the cabinet meeting. Here the Prime Minister has instructed, the vaccination has started from yesterday, it needs to be relaxed a little more. The Prime Minister has directed that registration can be done from 40 years (of age)."
He added, "Vaccination will be available for young people gradually. Those who are frontline fighters will have to register their families slowly and get vaccinated."
"The Prime Minister has repeatedly requested that whatever vaccine we take, we must wear masks. If you don't wear a mask, it won't work. The World Health Organization has also recommended it. There will be no work without a mask. Under no circumstances should we compromise with our masks."
Khandker Anwarul Islam said, "If anyone fails to register, he/she can go to the vaccination center with his national identity card and register and get vaccinated. The Prime Minister has directed to make that arrangement. However, it will be checked why that person failed to register.
Villagers can register at the Union Digital Center and city residents at the Business Center, he said.
He has already instructed the ICT department to make the vaccine registration process a little easier, the cabinet secretary said.
He said that the vaccination campaign will continue till March 7, adding that the effectiveness of this vaccine is 70 percent. If 70 out of 100 people become immune, we will move to a more comfortable zone to handle the disease or to stop its spread it."