Bangladesh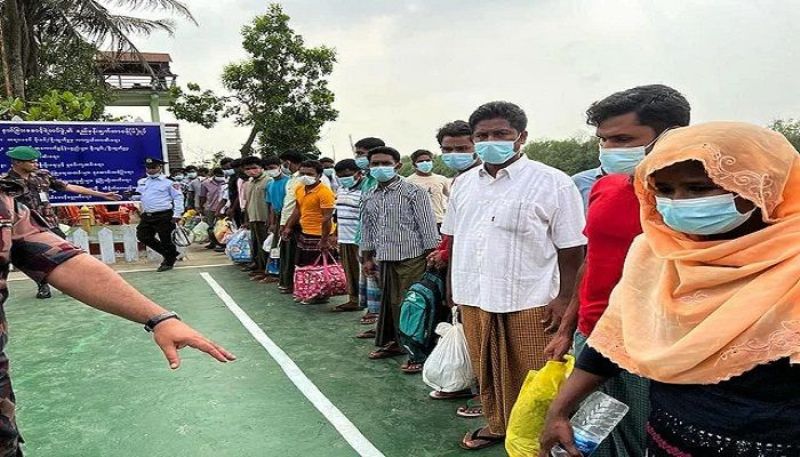 Photo: Collected
41 Bangladeshis imprisoned in Myanmar repatriated
Own Correspondent, Dhaka, March 24: Forty-one Bangladeshi nationals imprisoned in Myanmar have been repatriated.
A flag meeting of Myanmar Border Guard Police (BGP) was held with Border Guard Bangladesh (BGB) inside Myanmar on Wednesday. Through this flag meeting, the Bangladeshis have been brought back to their country. This was stated in a press release of BGB.
Since May 6 last year, these 41 Bangladeshi citizens had been living inhumane lives in various prisons in Myanmar. Upon learning of the matter, the Ministry of Home Affairs, Ministry of External Affairs, BGB and the Consulate of Bangladesh Embassy in Myanmar's Sittwe, after a long year of efforts, took steps to repatriate them through diplomatic activities. In its continuation a flag meeting was held between the commander of BGB Teknaf Battalion (2 BGB) and the number (1) branch commander of Myanmar BGP, Pin Fu, at Maungdaw Point in the interior of Myanmar from 10:00 am to 2:30 pm on Wednesday (Bangladesh time). The detained Bangladeshi nationals have been brought back to the country through this flag meeting.
The 16-member BGB delegation was led by BGB Teknaf Battalion (2 BGB) Commander Lt. Col. Sheikh Khalid Mohammad Iftekhar and the BGP's 9 (nine) member delegation was led by Myanmar BGP's No. (1) Branch Commander Pin Fiu, Le Colonel Kao Na Young Show.
During the flag meeting, various issues related to Bangladesh-Myanmar border management were fruitfully discussed. The delegations of the two countries also expressed their views on the issues of mutual friendly and friendly relations, progressive improvement and enhancement of cooperation between the two countries.
Bangladeshi nationals have been imprisoned in Myanmar jails for crossing the border illegally at different times.
Arrangements have been made to keep 41 people brought back from Myanmar in the institutional quarantine with the help of the Upazila Executive Officer and the Upazila Health Officer.