Bangladesh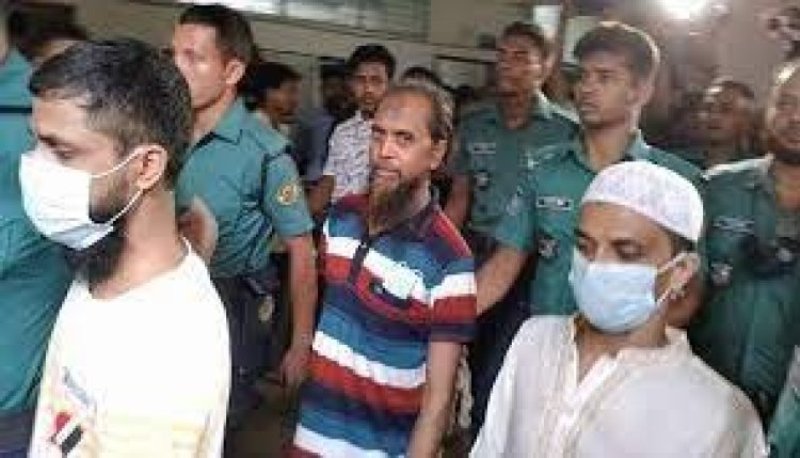 Collected
5 JMB members sentenced to death in Chittagong
Dhaka, August 17: A Chittagong court sentenced five members of the JMB to death in the mosque bombing case inside Isha Khan Naval Base in Chittagong. The court also ordered a fine of Tk 50 thousand to each of the convicts. On Wednesday (August 17), Chittagong Anti-Terrorism Tribunal Judge Abdul Halim announced the verdict.
The convicts are M Sakhawat Hossain (former Navy member), Abdul Mannan, Ramzan Ali, Babul Rahman Roni and Abdul Ghaffar. Among them, Abdul Mannan and Abdul Ghaffar are brothers.
Sakhawat is absconding among the convicts. The other accused were already in jail. They were present in the court when the verdict was announced. Later they were sent to jail.
State counsel Manoranjan Das confirmed the order in the tribunal.
He said that in the charge sheet of the case, 24 people were witnesses, but the court accepted the testimony of 17 people. Separate charges filed under the Explosives Act in the same incident are pending in another court.
According to court sources, two mosques inside the Isha Khan base of the Navy in Chittagong were bombed within 10 minutes of Friday after Friday, December 18, 2015.
The explosion injured 24 military-civilian people. Nine months after the incident, on September 3, 2016, Naval Provost Marshal Commander M Abu Saeed filed a case under the Anti-Terrorism and Explosives Act at the city's EPZ police station. Former Navy member M Sakhawat Hossain, ball keeper Abdul Mannan and Ramzan Ali and Babul Rahman Roni were accused in the case. Later, the police found the involvement of Abdul Mannan's brother Abdul Ghaffar in the investigation.
On October 15, 2017, the then inspector of EPZ police station, Muhammad Osman Gani, filed two charge sheets under the Anti-Terrorism and Explosives Act against 5 people. Twenty-four persons were made witnesses in two charge sheets. On January 28, 2020, the court framed charges against the accused.