Bangladesh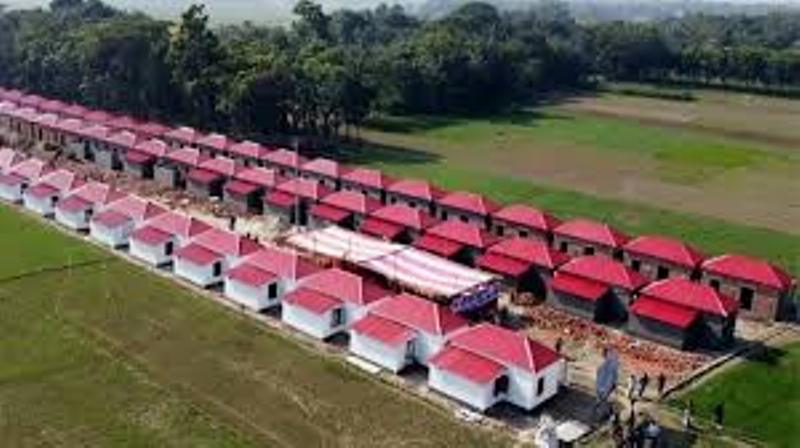 Collected
66,000 landless families will get houses on Saturday
Dhaka, January 22: Chief Secretary Ahmed Kaikaus said that 66,189 homeless and landless families will get houses on Saturday under the government's announcement on Mujib Year. He told a press conference at the Prime Minister's Office on Thursday that Prime Minister Sheikh Hasina would join 492 upazilas through video conferencing from Ganobhaban and hand over the gift of Mujib Year to the homeless and landless.
On the centenary of the birth of Father of the Nation Bangabandhu Sheikh Mujibur Rahman, the Prime Minister announced a list of 8,85,622 landless and homeless families in the country.
As part of this program, 66,189 landless-homeless families will be given 2-room houses as a gift of the Prime Minister free of cost with ownership of two percent khas land on Saturday, January 23.
Highlighting the details of the project at a press conference, Chief Secretary Kaikaus said, "The project is being implemented in less than six months. In the second phase, houses will be given as gifts to about one lakh more families.
The houses are being provided through three projects. Of this, 24,538 houses have been constructed at a cost of Tk 419.60 crore under Asrayan-2 project. 38,586 houses are being constructed at a cost of Tk 659.82 crore under the Disaster Resistant Housing Construction Project of the Ministry of Disaster and 3,065 houses at a cost of Tk 52.41 crore under the Guchhgram Project of the Ministry of Land.
"It's an extraordinary event," Kaikaus said. "At the same time, there is no precedent in the world for the rehabilitation of so many families. He hopes that with the current rehabilitation work, every quarter of a million homeless families will get a house in the next two years."
The houses that are being given to the landless-homeless have two bedrooms, a kitchen, a toilet and a long veranda.
The design of the house was chosen by Prime Minister Sheikh Hasina herself, the chief secretary said.
At the press conference, Secretary to the Prime Minister's Office Md. Tofazzal Hossain Mia said, "It is not only the house that is being given. Everyone is being given the will and naming of his land and house. If the value of land and house is calculated, then each family is getting assets of around Tk 10 lakh."
He said that in case of ownership, the land has been registered in the name of husband and wife. The registration document contains the names of both the husband and wife.