Bangladesh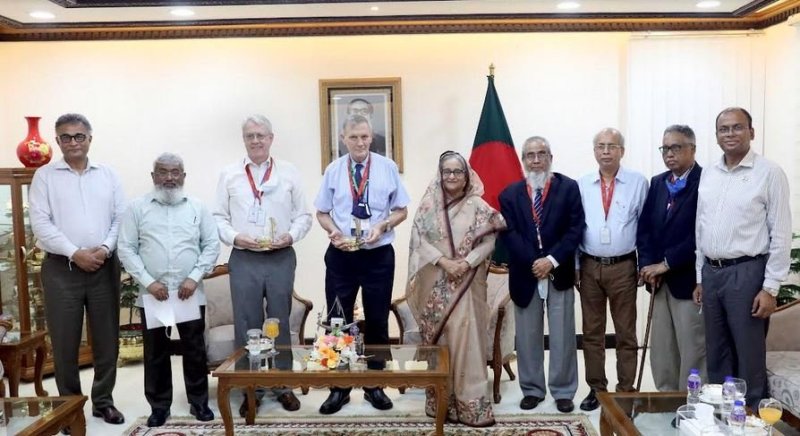 Photo: PID
A delegation of Padma Bridge officials and consultants meets Prime Minister
Own Correspondent, Dhaka, June 23: A five-member delegation of officials and consultants involved in the construction of the Padma Bridge paid a courtesy call on Prime Minister Sheikh Hasina in the capital on Wednesday.
After the meeting, Deputy Press Secretary to the Prime Minister KM Shakhawat Moon told reporters that during the meeting, they briefed the Prime Minister on various technical aspects of the Padma Bridge. The members of the delegation told the Prime Minister that the bridge had been built maintaining the highest quality standards - so that it can last up to 100 years.
Quoting the delegation, Moon said, "We will share our experience in the construction of the Padma Bridge and the experience of construction technology in other countries of the world."
The Prime Minister congratulated them on their dedication, sincerity and professionalism in the construction of Padma Bridge.
The delegation also thanked the Prime Minister for all the assistance provided during the construction of the Padma Bridge and expressed their gratitude to her.
The delegation consisted of Padma Bridge Project Manager and Supervision Consultant Robert John Aves, Management Consultant Team Leader Michael King, Padma Bridge Project Director Shafiqul Islam, Consultant Professor Shamimuzzaman Basunia and Professor Ainun Nishat.
Cabinet Secretary Khandaker Anwarul Islam, Chief Secretary to the Prime Minister Dr. Ahmed Kaikaus and Senior Secretary to the Prime Minister's Office Md. Tofazzal Hossain Mia were present there that time.