Bangladesh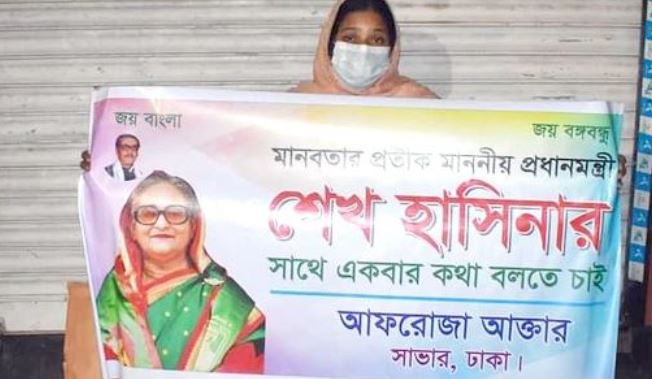 File Picture
Afroza travels from Savar to Rajshahi to meet Prime Minister Hasina
Dhaka, 29 January 2023: Prime Minister Sheikh Hasina went to Rajshahi. She will address the Awami League public meeting at the city's historic madrasa ground as the chief guest.
Rajshahi is decorated in a new style on the occasion of the Prime Minister's public meeting. The whole city is now decorated. In the meantime, the leaders and activists of Awami League and other organizations have started coming to Rajshahi. Many ordinary people are coming to the public meeting to have a glimpse of the Prime Minister.
This woman named Afroza Akhtar has also come to see the Prime Minister face to face.
On Saturday (January 28) evening, Afroza was seen sitting at the city's fire service intersection. She appeared a day earlier to see the Prime Minister.
Afroza said, "My only wish in life is to see Bangabandhu's daughter Prime Minister Sheikh Hasina once. I want to talk to him, give him 3 paintings of mine. I came to Rajshahi from Nabinagar in Savar on Saturday morning without saying that I would meet the Prime Minister."
She said, "My father used to work in Chittagong Power Development Board. I heard from my father how Bangabandhu worked for the development of the country. How everyone jumped into the liberation war on his call, how he was killed. Hearing from my father made me want to see Prime Minister Sheikh Hasina. I tried to meet him since childhood, but could not."
Afroza Akhtar also said, "I came here with the inspiration of my elder daughter. My husband does not know about my coming here. I have been sitting here without food since Saturday morning. I only want to meet the Prime Minister once."
Afroza said, "I have no request. I just want to meet and talk. I want to present 3 hand painted pictures to the Prime Minister. A picture of Bangabandhu, a picture of the Prime Minister and a dream painting of Padma Setu. Besides, with the money I saved, I also built a boat designed by me."