Bangladesh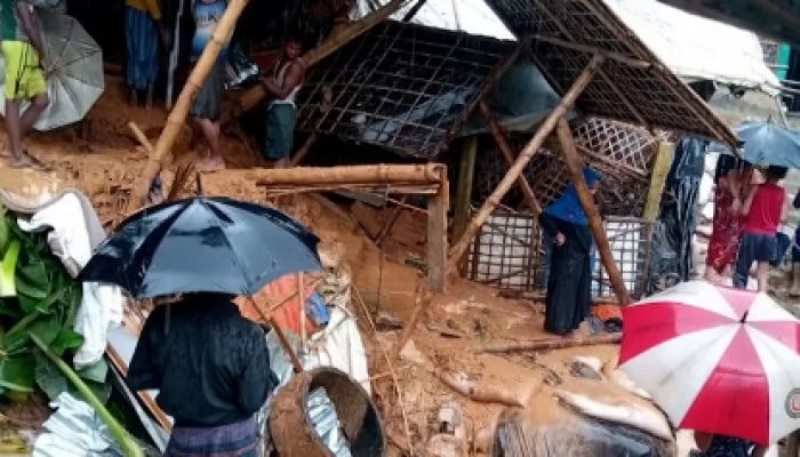 Collected
After Cox's Bazar, landslide kills 5 people in Teknaf
Dhaka, July 28: Five members of the same family were killed in a landslide at Hneela in Teknaf. The landslide took place at around 2 am on Wednesday (July 28) at Pankhali Villagejarpara in Hneela Union of Teknaf Upazila.
The deceased have been identified as Abdur Shukkur, 16, Mohammad Zubair, 12, Abdur Rahim, 5, Kohinur Akhter, 9, and Zainaba Akhter, 8, sons and daughters of Syed Alam, resident of Pahari Gram Vilejar Para of 4 no ward in Hneela union.
Hussain Ahmed, a local member of the Hneela Union, said Syed Alam's house was at the foot of the hill. High hills on the side. The rains that started on Monday morning have continued intermittently. It has softened the soil of the mountains. On Tuesday night, some parts of the hill collapsed due to continuous rain and fell on Syed Alam's house. The sleeping members of the house were crushed by the caving roof. Three sons and two daughters of Syed Alam died after being buried under the ground. The bodies were recovered from there.
Hneela Union Parishad chairman Rashed Mahmud Ali said five people, including women and children from two families, were killed in a landslide at a Rohingya camp in Ukhia on Tuesday morning, and two more locals were killed in Huaikeng and Maheshkhali. At the end of 15 hours, five people, including men and women of the same family, were killed when a landslide hit the hilly area of ​​Hnila. The rest of the members were also injured. They have been sent to the hospital.
Cox's Bazar Meteorological Department Assistant Meteorologist Abdur Rahman said 133 mm of rainfall was recorded in Cox's Bazar district from 12 noon on Monday to 6 pm on Tuesday. Warning signal number three is in force at sea. Rainfall may continue for another two to three days. Mountains and landslides can also happen.
"The lower part of the district is being flooded due to heavy rains in the month of Shravana. The three main rivers of the district, Fuleshwari of Eidgaon, Matamuhuri of Chakriya and Bankkhali of Ramu, have been flooded due to heavy rains. The lowlands and plains of nine upazilas of the district have been inundated by floods and rain water. Miking and expeditions are underway to evacuate the foothills to avoid the risk of death," Deputy Commissioner Md Mamunur Rashid said on Tuesday evening.