Bangladesh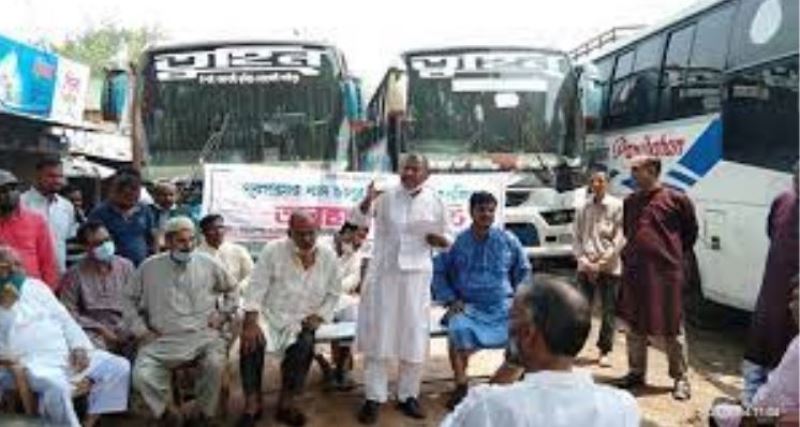 Collected
Agitated transport owners, workers take to streets, demand introduction of long-distance buses
Dhaka, May 15: The holy Eid-ul-Fitr is celebrated across the country on Friday (May 14). Eid Jamaat has been held in the mosques as per the instructions of the government to prevent corona infection. However, road transport owners and workers also took position on the road on Eid day. On the day of Eid-ul-Fitr, they held sit-ins at bus and truck terminals across the country, including the capital Dhaka, demanding the introduction of long-distance buses across the country in compliance with health regulations.
Immediately after the Eid Jamaat, the workers started their sit-in program at 10 am at the bus terminal in the northern part of the capital, Mohakhali. Members of the Sayedabad Inter-District and City Bus Terminal Workers Committee also took up position at Sayedabad, another terminal in the capital. Haji Mohammad Ali Suba, president of Dhaka Metropolitan Road Transport Workers Union, led the program under the banner of the organization.
Leaders who took part in the program said that everything including markets and shopping malls have been opened during lockdown amid the coronavirus pandemic. All transportation is running. Thousands of people are traveling on the ferry. People are being trampled to death by the crowd. But there are various excuses for launching public transport. In this situation, the transport workers are spending their days without food.
On the day of Eid, programs were celebrated in different parts of the country including Rajshahi, Satkhira, Joypurhat, Gopalganj and Habiganj to demand long distance bus service.
The 5 point demands of the transport owners are: -
All public transport and normal freight transport, including long-distance transport, should be provided with half the passengers in the mat seat in compliance with the hygiene rules.
Unemployed road transport workers will have to be given Eid financial aid and food aid due to the lockdown. As public transport is closed, the owners will have to pay incentives of Rs 5,000 crore on nominal interest and easy terms to pay for vehicle repairs, salaries of employees and workers, allowances and Eid bonuses, etc.
To arrange for the sale of OMS (open market) rice at Tk 10 before and after Eid for transport workers at bus and truck terminals across the country.
Postponement of installments till December 31 of this year, including waiver of interest on loans of all bank loans, loans of financial institutions and loans of privately owned entities, as opposed to investments in public transport business due to Covid-19. In addition, the opportunity to regularize the classified loans with a down payment of two percent.
During the lockdown, all types of fees, taxes and fines including vehicle tax-token, route permit fee, income tax will be waived and the opportunity to update the documents will be given till 31 December 2021.