Bangladesh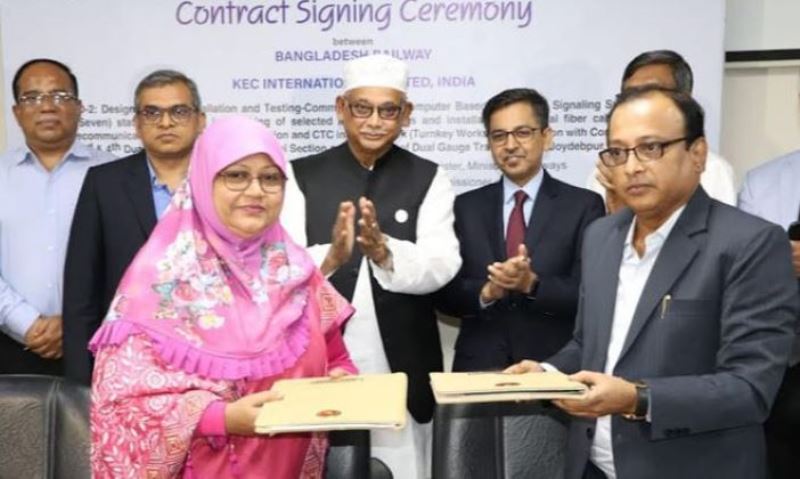 Photo: Collected
Agreement signed with India's KEC International Ltd for construction of 3rd and 4th dual gauge track on Dhaka-Tongi section
Dhaka, July 24: Railway Minister Md. Nurul Islam Sujan said that the railway communication system has suffered the most in the war of independence of Bangladesh. Bangabandhu Sheikh Mujibur Rahman, with the help of India, restored the railway communication by repairing Hardinge Bridge, Teesta Bridge and Bhairav Bridge.
The minister said these while addressing as the chief guest at the signing ceremony of the agreement between Bangladesh Railways and KEC International Limited, India for the construction of third and fourth dual gauge track in Dhaka-Tongi section and doubling of dual gauge track in Tongi-Joidebpur section in the meeting room of Railway Bhaban on Sunday.
The minister said that through this agreement, WD-2 will be designed, supplied, installed and commissioned for computer based interlock signaling system at seven stations, including interlocking of selected level crossings and optical fiber based telecommunication system work and signaling system for interconnection based telecommunication system.
He said, after 75, the anti-independence groups did not make any progress, even as a neighboring country India had a hostile relationship, no initiative was taken to develop the relationship. Relations improved after the formation of Sheikh Hasina's government after a long struggle. Bilateral issues including enclave issue, Ganga agreement, mountain peace agreement have been resolved peacefully. Five of the eight intersection points we had in the railway system have been established. Also our rail communication system with India has been converted to double line.
Mentioning that Dhaka to Chittagong double line has been constructed, Nurul Islam Sujan expressed hope that the Prime Minister would soon inaugurate the Akhaura to Agatala, Khulna to Mongla, Dhaka to Padma Bridge via Bhanga and Dhaka to Cox's Bazar rail communication system.
Nazneen Ara Keya, Project Director on behalf of Bangladesh Railway and Subarjit Jana signed the contract on behalf of KEC International Limited. Indian High Commissioner Pranay Kumar Verma was present as guest of honor in the event.