Bangladesh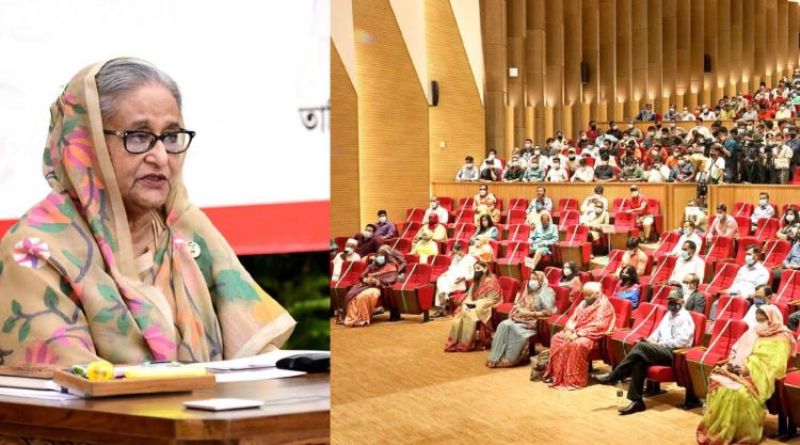 Photo: PID
All religions will have freedom, no one's religious feelings will be hurt: PM
Own Correspondent, Dhaka, July 6: Prime Minister Sheikh Hasina said the Awami League government is working for the welfare of all irrespective of religion and caste. We believe in secular consciousness. Freedom of all religions will remain in Bangladesh. No one will hurt anyone's religious feelings. No one will stop anyone from practicing religion.
Prime Minister made the remarks at the swearing-in ceremony of the newly elected mayor and councilors of Comilla City Corporation (CCC) on Tuesday (July 5).
The PM said the election in Comilla City was peaceful. "This is the most peaceful election in the history of local government polls. Such peaceful elections have never been seen before. We are working to ensure that the people's right to vote is ensured."
Sheikh Hasina said every person will enjoy the right to vote, the right to rice, and the democratic rights. That is our only goal. People's socio-economic development will be through democratic rights.
She said, "Due to the pandemic and the war in Ukraine, the prices of food items are constantly rising. This is the situation in every country. Edible oil and fertilizer prices have gone up. I am subsidizing a large amount of electricity, how much will I pay?"
In this situation, the Prime Minister urged everyone not to leave even an inch of land uncultivated and to use as much land as they have. "Do not leave even an inch of land. We will produce our food and eat."
At that time, Sheikh Hasina instructed the people's representatives to work for the country and the people. She also urged the people to be vigilant in dealing with Corona.
The swearing-in ceremony was held at the Osmani Memorial Auditorium in the capital on Tuesday. The Prime Minister first administered the oath to the newly elected Comilla Mayor by joining the function through video conference from Ganobhaban. Later, Local Government Minister Md. Tajul Islam administered the oath to 27 general councilors and nine reserved councilors of Comilla City Corporation.