Bangladesh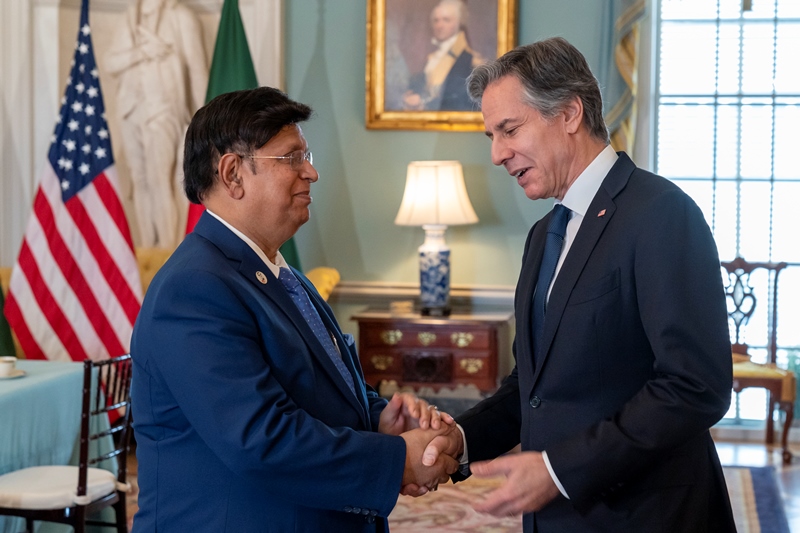 File photo/Wikimedia Commons/Flickr/US Dept. of State
America is our greatest friend: Foreign Minister
Dhaka, April 6: Foreign Minister Dr. AK Abdul Momen is going to Washington on the invitation of US Secretary of State Antony Blinken. The two foreign ministers will discuss various issues on April 10. Foreign Minister Abdul Momen thinks America is giving considerable importance to Bangladesh during the journey on the highway of development.
After the ceremony at a local hotel on Wednesday (April 5), he told reporters, "I have been invited. I'd say we're lucky. Because the American Secretary of State doesn't give invitations very often, we got three in a row. America is paying enough attention while traveling on the highway of our development."
Referring to America as Bangladesh's biggest friend, he said, "They are our biggest investor. They are the largest single country trading partner. When Covid happened, America was the only country; Who gave us more than 10 crore vaccines free of charge and delivered them to the country. We have had to bring in our own arrangements from other countries that we have bought from or donated to. As a result, we have been able to manage Covid very efficiently."
Stating that the United States has given and continues to give the most humanitarian aid to the Rohingyas, he said, "Many other countries gave good money at first but then reduced it."
He said, "America raises an issue to us often and that is they want a transparent and fair election in Bangladesh. Of course, the Bangladesh government also wants a transparent, beautiful and acceptable election."
Commenting that "America's core values and our core values are the same," he said, "We don't need to teach others about our democracy. Because we all have democracy in our blood. America wants transparent elections and so do we. There is no disagreement between us on this matter."