Bangladesh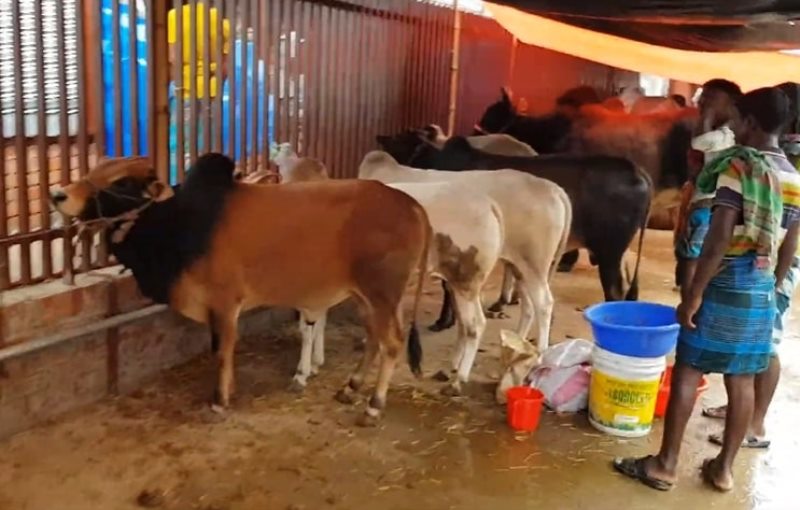 Screengrab from YouTube
Animal markets will be closed if any irregularities found: DNCC Mayor Atiq
Dhaka, Juy 19: If any irregularity is found in any of the sacrificial animal markets, the market will be closed. Dhaka North City Corporation Mayor Atiqul Islam made the remarks while inspecting a temporary cattle market at Bhatara (Said Nagar) and Badda Eastern Housing (Aftabnagar) Block-E, Section-3 on Sunday (July 18) at noon.
"A mobile court is being run at every animal market under the Dhaka North City Corporation under the leadership of the Executive Magistrate in charge of the DNCC to ensure compliance with government guidelines and hygiene. In addition, Shakti Foundation has provided 200 volunteers, 200 vests and a sufficient number of masks at each market. Leaseholders have also provided hand sanitizers and other health care items in all the markets," the DNCC Mayor said.
"Around 8,00,000 masks with adequate number of hand sanitizers are being distributed in the sacrificial animal markets through the 'Mask for Me, Safety for All' campaign. The need for life is to maintain social distance in the animal markets. Both buyers and sellers need to use masks and hand sanitizers properly. The animals of the market have also been displayed online, no one can enter the market and buy sacrificial animals online," he added.
Meanwhile, in a virtual bulletin organized by the Directorate General of Health Services on Sunday afternoon (July 18), the spokesperson of the department, Prof. Dr. Nazmul Islam, expressed concern over the violation of hygiene rules at the sacrificial cattle market centered on the upcoming Eid-ul-Azha.
Asked whether there was any monitoring by the Directorate General of Health Services at the cattle market, he said, "There is a monitoring team led by Civil Surgeons and Deputy Commissioners. They are taking care of them. We believe that everyone is a responsible citizen. The place of responsibility reminds them and everyone in law enforcement has an important role to play. It is possible to adhere to the rules of hygiene a little better if we follow the role of everyone from their place properly."