Bangladesh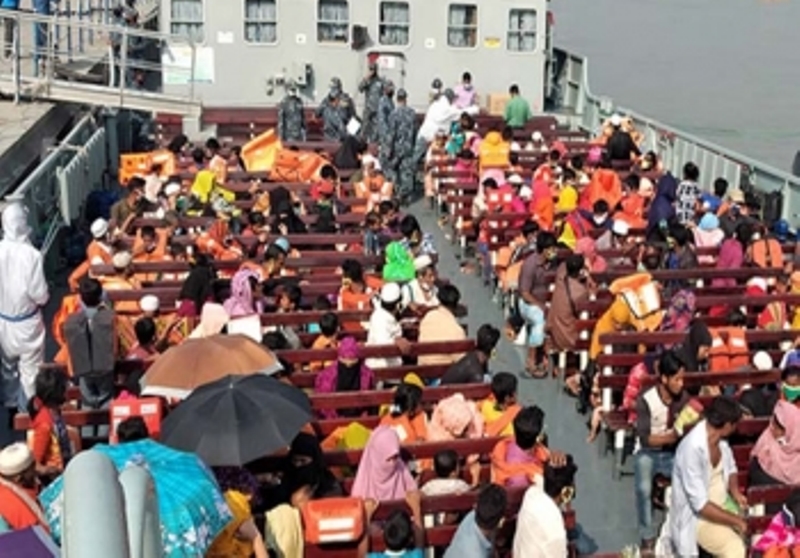 Collected
Another 1776 Rohingya refugees relocated to Bhasan Char
Dhaka, January 29: Another 1776 Rohingya refugees reached Bhasan Char in the third phase from the Cox's Bazar camp. They reached Bhasan Char on Friday (January 29) at around 12 noon aboard five ships. Of these, 404 are males, 510 are females and 862 are children.
Earlier on Thursday (January 28), they were taken to the Chittagong Boat Club in 38 buses from the Rohingya camps in Ukhiya and Teknaf in Cox's Bazar.
They were kept at BF Shaheen College Transit Camp in Chittagong at night. At 9 am on Friday, five naval ships left for Bhasan Char with them.
Lt Col Mamun, who is in charge of the navy in Bhasan Char, said that the Rohingyas who reached Bhasan Char in the third phase were taken off the ship and examined.
Afterwards, they were assembled at Warehouse-1 by car and briefed. They were then moved to clusters 23, 24 and 25 in Bhasan Char.
He added that three days of food would be provided to the arriving Rohingyas through Triple RRRC. Later they will get ration.
On December 4, in the first phase, 1,642 Rohingyas officially reached Bhasan Char in Noakhali.
They are kept in clusters 7, 8, 9 and 10 ready for the Rohingyas. They were fed under the supervision of the navy for a week.
Among the Rohingyas who went to Bhasan Char in the first phase were 368 men, 464 women and 810 children. Then on December 29, in the second phase, another 1,804 Rohingyas reached Bhasan Char.