Bangladesh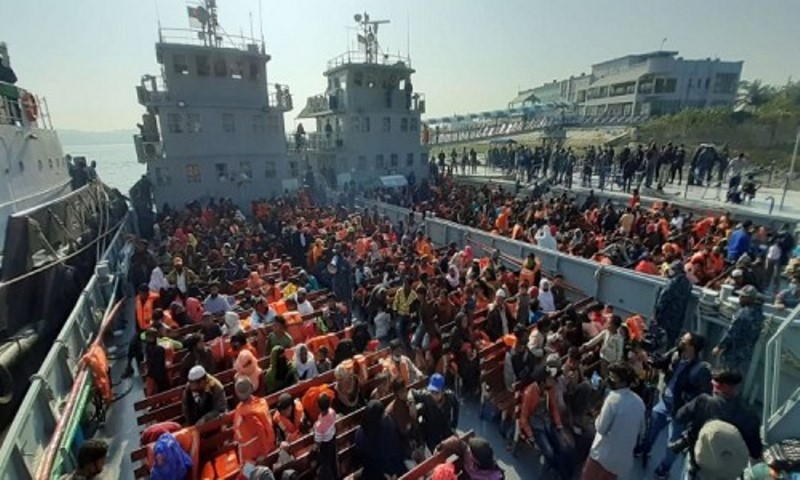 Collected
Another 3,000 Rohingyas to move to Bhashan Char
Dhaka, March 2: Thousands more Rohingya members are being voluntarily transferred from the refugee camps in Cox's Bazar to Bhasan Char in the fifth phase (Part I). At noon on Tuesday (March 2), Rohingya members left Ukhia Degree College grounds for Chittagong in 21 buses. Another team is scheduled to visit Bhasan Char today. They left the refugee camp on Monday (March 1) afternoon.
Noakhali Deputy Commissioner (DC) Khorshed Alam Khan said on Wednesday (March 3) morning that a group of Rohingyas would reach Bhasachan in the fifth phase by a Chittagong Navy ship. "There are plans to transfer another 3,000 Rohingya members to Bhasanchar this time," he said. However, this number may be different.
It is learned that Rohingyas and their families started coming to Ukhia Degree College ground from Monday afternoon with the intention of going to Bhasanchar from different camps in Ukhia and Teknaf. They will reach the camp in Chittagong at night. From there he is scheduled to reach Bhasanchar the next day under the management of the Navy.
Additional Relief and Refugee Repatriation Commissioner Shamsu Ddouza Nayan said, 'In the fifth phase, a group of Rohingyas left Ukhia for Bhasanchar. It is unknown at this time what he will do after leaving the post.
According to the RRRC office, about 9,700 Rohingyas have been relocated to Bhasanchar from various camps in Cox's Bazar in four phases since last December.
Besides, 306 Rohingyas who had returned to Bangladesh waters after trying unsuccessfully to reach Malaysia by sea were rescued from the sea in May last year and taken to Bhasanchar. They are there now too.
The government is implementing the Bhasanchar Asylum Project at a cost of Tk 3,095 crore from its own funds to relocate Rohingyas from Cox's Bazar refugee camps. The infrastructure of 120 cluster villages suitable for one lakh Rohingyas has been built on that 13,000 acre area.
More than 1.1 million Rohingya who fled to Bangladesh from Myanmar's Rakhine state to escape the Myanmar military operation are living in refugee camps in Teknaf and Ukhia in Cox's Bazar.