Bangladesh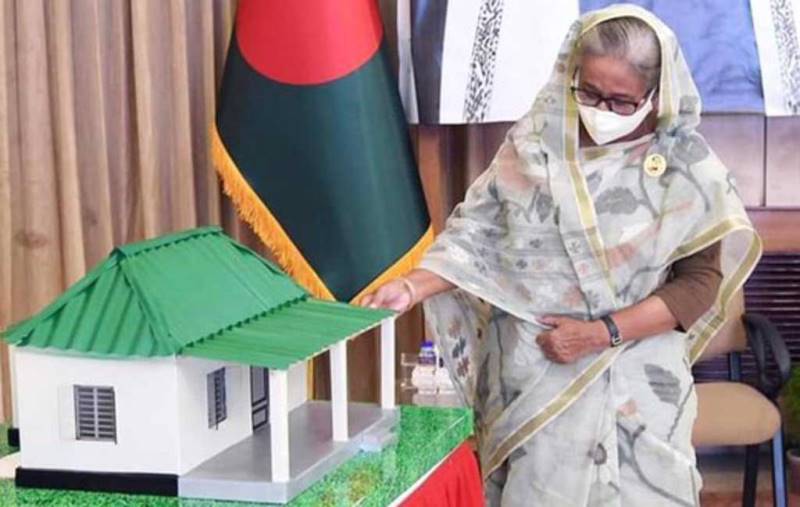 Collected
Another 53,000 homeless families will receive PM Hasina's gift house in June
Dhaka, May 4: Another 53,500 more landless families will be given houses under Asrayan Project-2 in June. The information was given at a review meeting at the Prime Minister's Office on Monday (May 3) on the progress of ongoing housing construction under the Asrayan project.
About 70,000 houses and landless families were given houses as a gift from Prime Minister Sheikh Hasina in January on the occasion of Mujib Year.
A total of 53,434 houses are being constructed in the second phase.
Of these, 7,280 are in Dhaka division, 2,512 in Mymensingh division, 10,562 in Chittagong division, 12,391 in Rangpur division, 7,172 in Rajshahi division, 3,911 in Khulna division, 7,627 in Barisal division and 1,969 in Sylhet division are under construction.
The review meeting was chaired by Chief Secretary to the Prime Minister Dr. Ahmed Kaikaus. Md. Mahbub Hossain, Project Director of Asrayan-2 highlighted the progress of the work during the presentation.
Next year, the government will distribute 1,25,000 pucca houses among the homeless and landless. Field administration officials have been asked to prepare for the construction of the second phase of the houses, which will be provided by the government next year. Homeless people are getting houses as a gift from Prime Minister Sheikh Hasina in Mujib Year.
Instructing the officials to ensure the quality of the houses, Chief Secretary to the Prime Minister Dr Ahmed Kaikaus said, "There will be no compromise on quality. If any deviation is found, we will show zero tolerance. No deviation will be tolerated. We will not take the matter lightly. We will not allow anyone to tarnish the reputation of such an initiative."
He added that the program to build houses for the homeless and landless is rare in the world. The Prime Minister is passionate about building houses for helpless people and is constantly in touch with the officials, Kaikaus stated.