Bangladesh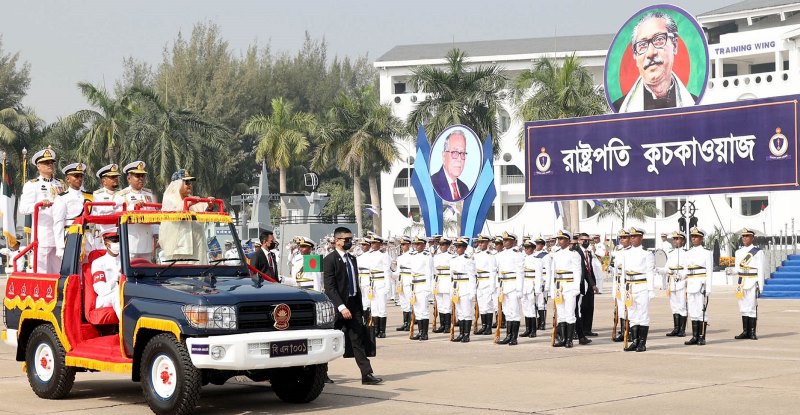 Photo: PID
Armed forces are being strengthened to maintain peace: PM
Dhaka, December 23: Prime Minister Sheikh Hasina said, we believe in peace. Bangladesh was born through war. We know the terrible consequences of war. We are strengthening our armed forces not for aggression but for peacekeeping.
The Prime Minister said this while participating in the winter presidential parade of Bangladesh Navy's 'Midshipman 2020 Alpha' and 'Direct Entry 2022 Bravo' batch on Thursday (December 22) morning.
The Prime Minister mentioned the main motto of our foreign policy, formulated by Father of the Nation Bangabandhu Sheikh Mujibur Rahman, 'Friendship with all, enmity with none'.
She said that the father of the nation started working with the goal of building an efficient, strong and modern navy in an independent country. On his advice, Narayanganj Drydock & Engineering built the first warship in 1972. He acquired five modern warships from Yugoslavia and India. On December 10, 1974, Bangladesh Navy was given Naval Assign. Commissioned three bases and three ships including Ishakhan, the largest training base of the Navy. On this day, Bangabandhu Sheikh Mujib visited the first naval exercise at Banauja Surma. His efforts started the process of procuring warships from the UK.
She said, as part of the ongoing modernization, we have added two new Maritime Patrol Aircraft. Besides, two utility helicopters will be added soon. Construction of 3 Landing Craft Tanks is in progress at Khulna Shipyard for our Navy. Warships, auxiliary ships, modern war equipment and technology are constantly being added to the Navy.
The Prime Minister said, our Navy is providing security to commercial ships, fishing trawlers, boats and blue-economy related maritime institutions in sea and coastal areas including Chittagong, Mongla seaports. We are developing the infrastructure of Mongla Commander Flotilla West (comFlot West). Digital technology has also been introduced in the Navy.
The PM said, "Bangladesh today stands on the highway of golden possibilities. We are moving towards building a Smart Bangladesh beyond the era of Digital Bangladesh. A smart Bangladesh will be the golden Bangladesh of the father of the nation Bangabandhu Sheikh Mujibur Rahman's dream; Hunger-poverty-illiteracy-free non-communal developed-rich Bangladesh."