Bangladesh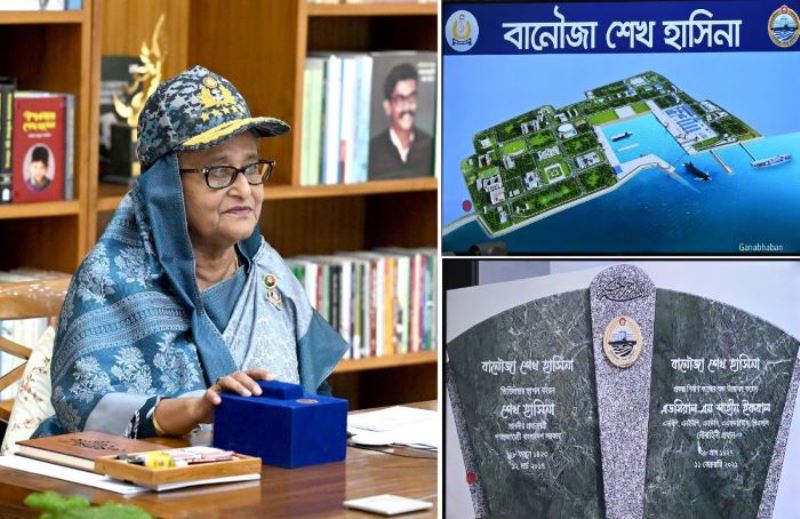 Photo: PID
Armed forces being made capable of protecting country's sovereignty: PM
Dhaka, March 21: Prime Minister Sheikh Hasina said that her government is building the armed forces in such a way that if Bangladesh is attacked in any way, they can protect the country's independence and sovereignty.
She said, "We will not fight with anyone. However, if ever there is such an environment then we have to acquire skills in such a way that we can protect the sovereignty of the country and that is how we are preparing our forces."
Prime Minister Sheikh Hasina said this while addressing the chief guest at the commissioning ceremony of the newly built 'Banauja Sheikh Hasina' submarine base of Bangladesh Navy on Sunday. She connected virtually with the newly constructed base at Pekua in Cox's Bazar through video conference from Ganabhaban.
Referring to the foreign policy of 'friendship with all, enmity with none' passed by the father of the nation, the Prime Minister said, "We believe in that principle, we do not want to fight with anyone. However, each of our institutions is a symbol of freedom and sovereignty, we want them to excel in all areas."
She said, our armed forces are playing a huge role in the UN peacekeeping mission. We are preparing these forces in such a way that they do not lag behind in performing their duties there.
Sheikh Hasina said, "I hope that every member of the Navy, inspired by the spirit of patriotism, will continue their efforts in the work of building a developed and prosperous Bangladesh, free from hunger and poverty, as well as the dream of Father of the Nation Bangabandhu Sheikh Mujibur Rahman."
She said that the government is implementing the 'Blue Economy' policy so that the marine resources that we have in this sea boundary are useful for our economy. Moreover, in this regard, there are many opportunities to work from developing our tourism industry.
The head of government expressed strong confidence and said that the Bangladesh Navy's ability to protect the sea border of Bangladesh will be strengthened through the addition of Banauja Sheikh Hasina base. On the occasion, a well-equipped naval contingent from the Banauja Sheikh Hasina base gave the Prime Minister a national salute. Navy Chief Admiral Mohammad Shaheen Iqbal delivered the welcome address on the occasion.
On behalf of Prime Minister Sheikh Hasina, Chief of Navy Banouja Sheikh Hasina handed over the commissioning order to Chief Commodore M. Atiqur Rahman. After that, the flag was hoisted for the first time at the base. A short audio-visual presentation on the submarine base was also shown on the occasion.