Bangladesh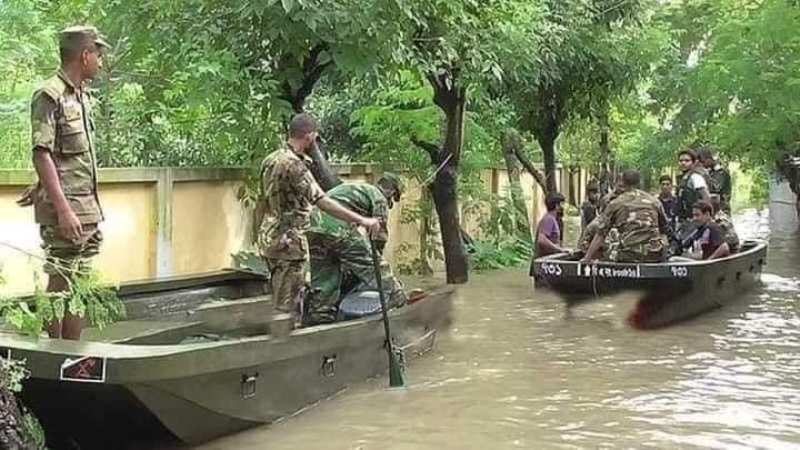 Photo: Collected
Army, navy deployed as flood situation deteriorates in Sylhet, Sunamganj
Own Correspondent, Dhaka, June 18: As the flood situation in Sylhet deteriorated, the army and navy were deployed for rescue and relief operations. Rescue teams have been continuing efforts since Friday morning.
Sylhet Deputy Commissioner Md. Mojibur Rahman said that Sylhet city, 20 upazilas and two municipalities have been inundated due to continuous rains and floods. At least 25 lakh people have been stranded due to this.
Meanwhile, the army has started rescue operations in flood-hit Sylhet and Sunamganj districts. Ten platoon and six medical teams are working in eight upazilas of the two districts. Army personnel are rescuing waterlogged people from their homes by boat and taking them to safe shelter. Members of the Bangladesh Navy did not begin their activities when this report was written.
Major General Hamidul Haque, GOC of Sylhet Cantonment, told the media that considering the situation, the army will carry out rescue and relief activities in three upazilas of Sylhet and five upazilas of Sunamganj. These include Sadar, Gowainghat and Companiganj of Sylhet district and Sadar, Dirai, Chhatak, Doarabazar and Jamalganj upazilas of Sunamganj district.
Hamidul Haque also said that there was a fear of power outage as flood water is entering the Kumargaon power plant in Sylhet. Several food warehouses in Sunamganj are under threat. Army members are also working to protect those.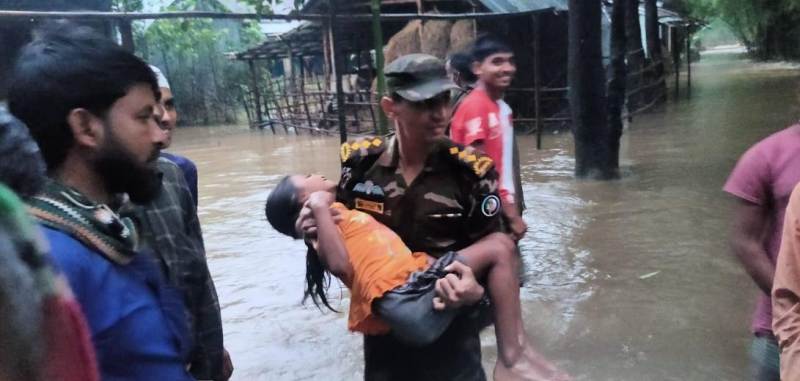 Photo: ISPR
The GOC said the army was carrying out five works in the flood-hit areas. These are: rescuing waterlogged people, providing shelter to flood-affected people through the establishment of shelters with the help of civil administration, providing medical assistance to flood victims, ensuring safety of sensitive installations and providing food and clean drinking water to a limited extent.
The army said it was rescuing stranded people with its own boats. More 'rescue boats' are being brought from Dhaka and Comilla. Local people's boats are also being used in the rescue operation.
Meanwhile, rain continues in Sylhet. The water of rivers and haors is rising rapidly. Surma's water is flowing over the danger line. In 24 hours, the water level has increased from one to one and a half feet. Half of the area of Sylhet City Corporation has been flooded. The rising water from time to time has created fears of flooding the entire city.
According to the Meteorological Department, rains will continue in Sylhet till June 20. Due to this there is no possibility of water reduction. Extreme levels of flood danger were announced in Sylhet.