Bangladesh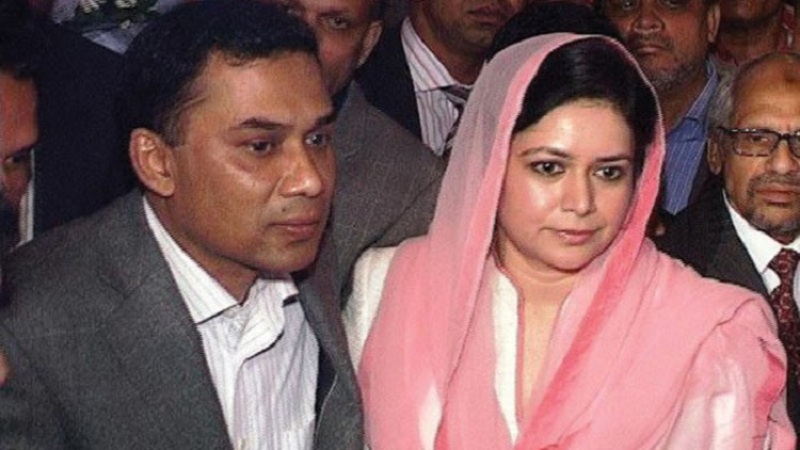 Collected
Arrest warrant against Tarique, wife Zubaida
Dhaka, November 1: The court has issued an arrest warrant against BNP Acting Chairman Tarique Rahman and his wife Dr. Zubaida Rahman in a case filed by the Anti-Corruption Commission (ACC) on the charge of acquiring wealth beyond known income.
On Tuesday (November 1), Dhaka Metropolitan Sessions Judge Court Md. Asaduzzaman accepted the charge sheet and issued the arrest warrant. Besides, the court has fixed January 5 next year for submitting the Tamil report regarding the arrest.
According to the details of the case, the ACC filed this case on September 26, 2007 at the capital's Kafrul police station on charges of owning Tk 4 crore 81 lakh 53 thousand 561 beyond the declared income and concealing the information of assets and acquiring assets outside the known income. In the case Tarique Rahman, his wife Dr. Zubaida Rahman and his mother-in-law Syeda Iqbal Mand Banu were accused. Tarique's mother-in-law has already been dropped from the case as she died.
In 2008, a charge sheet was filed against the three. After that, Zubaida applied to the High Court to cancel the case. In the same year, in view of this application, the High Court issued a ruling suspending the proceedings of the case. On appeal against it, the Appellate Division upheld the order of the High Court.
After the final hearing in this regard, on April 12, 2017, the High Court dismissed (rule discharge) the application for cancellation of the case filed by Zubaida. At the same time, Zubaida was directed to appear in the judicial court within eight weeks in that case. She filed a leave-to-appeal against the dismissal order of the High Court that year. On April 1, 2021, after the hearing of Zubaida Rahman's leave-to-appeal, the court fixed April 8 of that year for the order. But it lags behind in Corona's delta variant scenario.