Bangladesh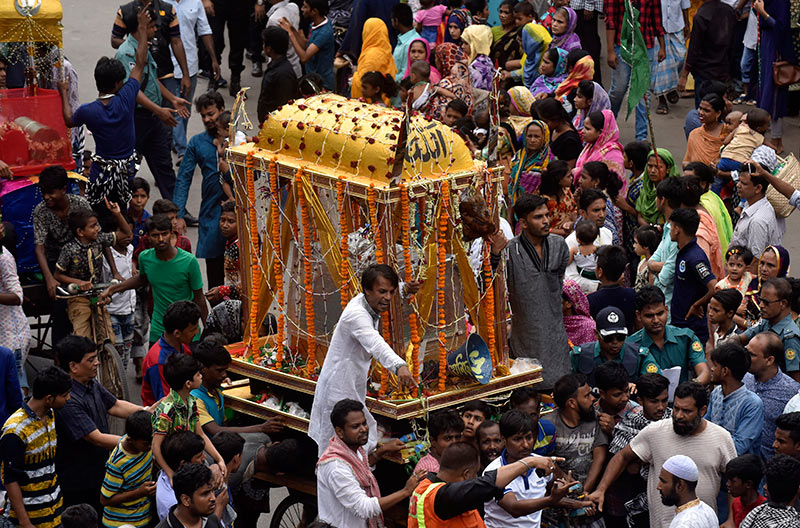 Collected
Ashura: Traditional tazia procession ends with mourning
Dhaka, August 9: The 10th day of Muharram is a special day in the history of Islam. The day is observed as Ashura by the world Muslim community.
Holy Ashura is celebrated in an atmosphere of mourning to remember the tragic memory of Karbala. After being closed for two consecutive years due to the widespread outbreak of coronavirus pandemic, the traditional Tazia procession of Muharram has come out in the capital with proper religious solemnity. Shia Muslims flocked to it.
On the surface, it can be seen that most of the Shia Muslims who came to the procession wore black clothes and clapped their chests and chanted 'Hay Hussain, Hay Hussain'. Banners of various organizations were also seen in the procession organized by Hosseini Dalan Imambara Management Committee.
On Tuesday (August 9) at 10 am, the Tazia procession left Hosseini Dalan in the capital and passed through Chawkbazar, Lalbagh, Azimpur, Neelkhet, Newmarket and Sainslab and ended at Dhanmondi 2.
Hazrat Imam Hussain (RA), the son-in-law of Prophet Muhammad (PBUH) on 10 Muharram 61 A.H. along with his children Zainal Abedin and his descendants were martyred by Yazid forces in the desert of Karbala on the banks of Euphrates River. For hundreds of years, Shia Muslims commemorate the martyrs of Karbala with blood-letting processions and mourning days.
Shia Muslims march barefoot in Tajiya processions, with men in black Punjabi-pajamas and women in black as a symbol of mourning. They remembered the tragic incident of Karbala by lamenting and beating their chests with the sound of 'Hay Hossain, Hay Hossain'. Devotees from different places participated in the procession. In the front row of the procession were two symbolic horses of Imam Hasan and Imam Hussain, the saddle of the second horse was painted blood red.
Two black domes are carried in the first part of the procession. It is known that these two domes have been carried in memory of Bibi Fatima. Shia Muslims carry the symbolic corpse of Imam Hussain (RA) in black cloth in the procession. The procession ends at the symbolic Karbala desert at Dhanmondi Lake.
The Shia Muslims who participated in the procession wore red, green, black and other colored nishans on their hands and wear black mourning clothes on their heads. This year around 1000 Nishans were flown in the Tajia procession. Some carried the symbolic coffin of Imam Hussain under a black canopy to commemorate Karbala. Volunteers were engaged in the service of the mourners. They are seen distributing water and syrup.