Bangladesh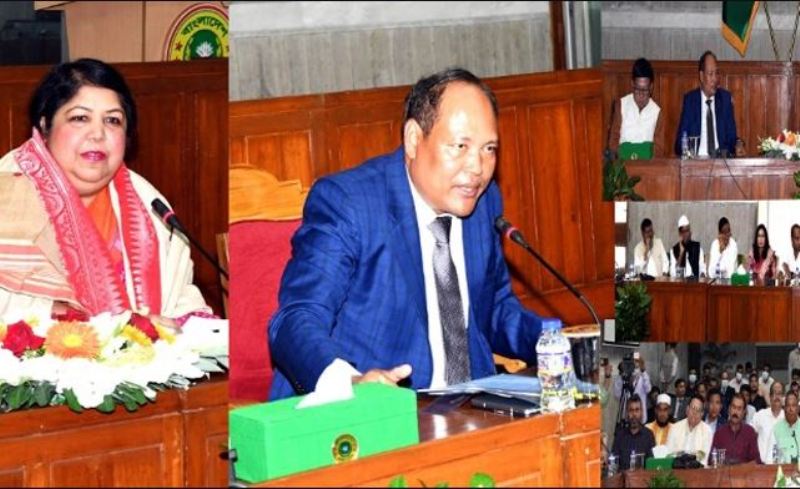 Collected
Assam Legislature delegation meets Speaker Shirin Sharmin Chaudhury
Dhaka, November 21: A parliamentary delegation led by Speaker of Assam Legislative Assembly Biswajit Daimary paid a courtesy call on Speaker of Bangladesh National Assembly Dr. Shirin Sharmin Chaudhury at Sangsad Bhavan on Sunday.
During this time they discussed Bangladesh-India long friendly relations, expansion of business and trade, information and communication technology, investment, economic development of both countries etc.
Bangladesh Jatiya Sangsad Deputy Speaker Md Shamsul Haque Tuku, Chief Whip Noor-e-Alam Chowdhury, Whip Atiur Rahman Atiq, Whip Iqbalur Rahim and Parliament Secretariat Secretary KM Abdus Salam were present during the meeting.
Speaker Dr. Shirin Sharmin Chaudhury said that the diplomatic wisdom and ideological leadership of the Father of the Nation Bangabandhu Sheikh Mujibur Rahman and the then Prime Minister of India Indira Gandhi established the historical relationship between the two countries. This relationship was further established and consolidated under the leadership of Prime Minister Sheikh Hasina The Indian Prime Minister's visit to Bangladesh on the occasion of Mujib Centenary has strengthened the historic ties between the two countries. Under the leadership of Prime Minister Sheikh Hasina, activities such as the Ganga Water Distribution Agreement, Land Boundary Agreement with India have been completed.
The Speaker urged the two countries to work together on how to make Bangladesh-India relations the most integrated in South Asia in terms of regional peace and security.
Shirin Sharmin Chaudhury said that in the global political crisis, Bangladesh and India are not only bound by geographical borders, but for fifty years, mutual cooperation in various fields including art, literature, communication system of the two countries is worth seeing. India is Bangladesh's oldest friend. Apart from supporting Bangladesh in the Great War of Liberation and speaking out against Pakistan's genocide of the people of Bangladesh, India provided shelter and overall support to around one crore refugees.
Recalling the long friendly relations between Bangladesh and India, Speaker of the Assam Legislative Assembly Biswajit Daimary said, Bangabandhu Sheikh Mujibur Rahman was India's true friend and Prime Minister Sheikh Hasina was the embodiment of humanity. Bangladesh's ongoing unprecedented development and women's empowerment is really worth following. The participation of notable women parliamentarians in the Parliament of Bangladesh is commendable. He mentioned that the experience gained through the trip to Bangladesh will be helpful for the parliamentary delegation in the future.
When Biswajit Daimary invited the Speaker of the Bangladesh National Assembly to visit the Assam Legislative Assembly, Dr. Shirin Sharmin Chaudhury welcomed it and expressed the hope of visiting at a convenient time in the future.