Bangladesh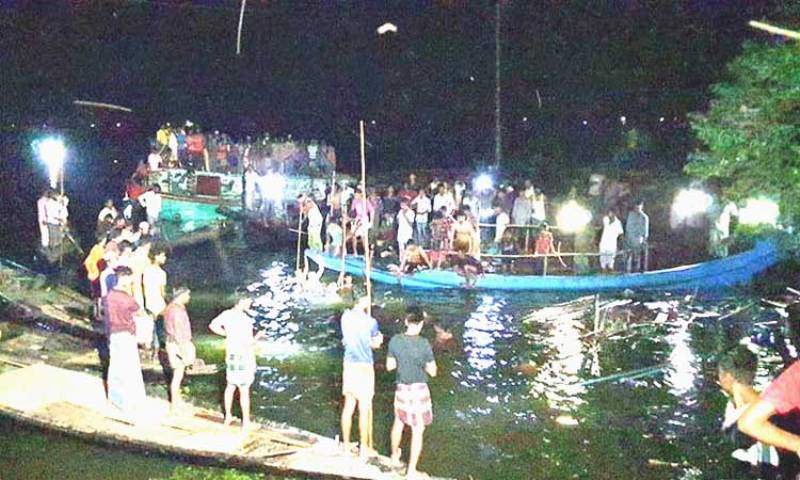 Collected
At least 21 dead, 40 missing as trawler capsizes in Brahmanbaria
Dhaka, August 28: At least 21 people have died and 40 others missing after a passenger trawler collided head-on with a freight trawler in Bharmanbaria's Bijoynagar on Friday, Deputy Commissioner Hayat-ud-Daulah Khan stated.
Earlier, the accident took place at Laiska Beel in Pattan Union of the upazila around 5:15 pm. The bodies of 21 people were recovered in the incident till 11:30 pm. More than 40 passengers are still missing.
Ali Akhter Rizvi, a passenger of the sunken trawler, said the vessel left Champaknagar ghat of Bijoynagar upazila of the district at 4:30 pm with more than 100 passengers for Anandabazar ghat of Sadar upazila. On the way there was a collision with a sand-laden trawler coming from the opposite direction in the Laiska Beel area. The passenger trawler sank.
So far, 16 deceased have been identified.
Among them are Momena Begum, 55, wife of Abu Saeed of Pairatla area of ​​Brahmanbaria municipal town and Kajal Begum, 40, wife of Faruk Miah; Tasfia Mim (12), daughter of Mubarak Miah of Datiyara area; Tanvir (8), son of Murad Hossain of Sadekpur village in Sadekpur union of Sadar upazila; Takua (8), daughter of Abdullah Miah of Chilokut village; Sajim (7), son of Jamal Miah of Narsinghsar village; And Sharmin (18), daughter of Jharu Miah of Bhatpara village, Arif Billah, 20, son of Zahirul Haque of Fatehpur village in Champaknagar union of Vijaynagar upazila; Monju Begum (60), wife of late Malu Miah of Beragaon village; Joj Miah's wife Farida Begum (47) and his daughter Munni (10); Abdul Hasim's wife Kamala Begum (52); Minara Begum, 50, wife of late Razzak Miah of Nurpur village; Anjani Biswas (30), wife of Akhil Biswas of Adampur village; Tithiba Biswas (2), daughter of Parimal Biswas; And Jharna Begum, 45, wife of Khokon Miah of Mymensingh.
The bodies of 15 people were handed over to their relatives from Brahmanbaria General Hospital till 11:00 pm. Financial assistance of Tk 20,000 has been handed over to the relatives for burial with the body.
Brahmanbaria district administration's executive magistrate Prasast Baidya said the bodies were being identified and handed over to relatives after an inquest. Every family is being given cash assistance for burial.
A three-member committee has been formed by the district administration to investigate the trawler sinking incident. The committee, headed by Additional District Magistrate Ruhul Amin, has been asked to submit an investigation report within the next three days.