Bangladesh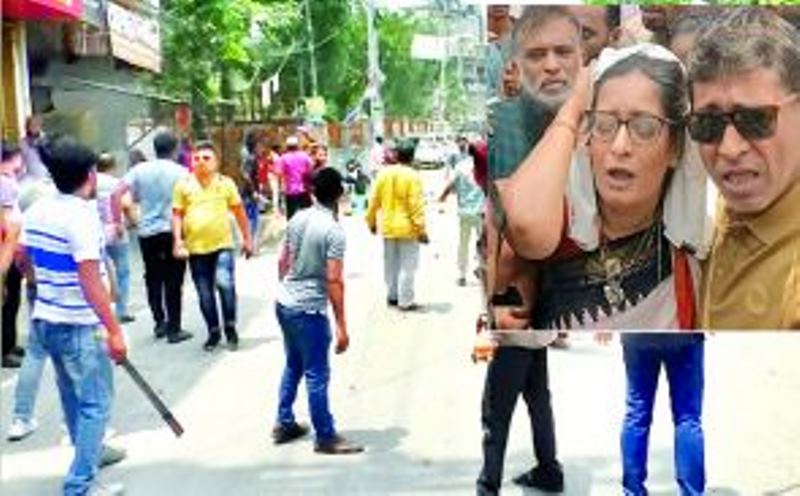 Photo: Collected
Attack on A. League office led by BNP leader Nipun Roy: 15 injured
Dhaka, May 27: The local leader of the ruling party M. E. Mamun alleged that the Awami League head office of Dakshin Keraniganj police station was attacked under the leadership of Dhaka district BNP general secretary Nipun Roy Chowdhury. The General Secretary of Dakshin Keraniganj Thana Awami League claimed this in his comments given to various media on Friday (May 26). He said that this incident happened after 12 pm on Friday. Fifteen people were injured.
In the complaint, he said, "Today there was a nationwide demonstration of BNP, including Dhaka. Gayeshwar Chandra Roy and Ruhul Kabir Rizvi and other activists of BNP were present in the rally in Keraniganj. While finishing the meeting, they kept throwing bricks at our party office on the way. At one point they entered our party office and attacked our people. I also have the video footage of this incident. Nipun Roy can be seen running away throwing bricks."
Claiming that around 15 to 20 Awami League leaders and activists were injured in this 'attack', M. E. Mamun said, "Of these, four to five people are admitted to the hospital. Dakshin Keraniganj Thana Awami League vice-president Azahar Bangali was injured the most."
Narrating the incident, M. E. Mamun said, "Our party office was next to their gathering place. They were making bad comments about the Prime Minister and Awami League while passing by our office after finishing the programme. Then one of our elders asked them why you are doing this. In response, they hit him on the head with sharp weapons. He immediately fell down. At that time, BNP activists started vandalizing party office chairs."
Dhaka District Additional Superintendent of Police Aminul Islam said, "There was no obstruction in the BNP rally. Some of their staff messed up. After this incident, additional police have been deployed in the area to avoid untoward incident."