Bangladesh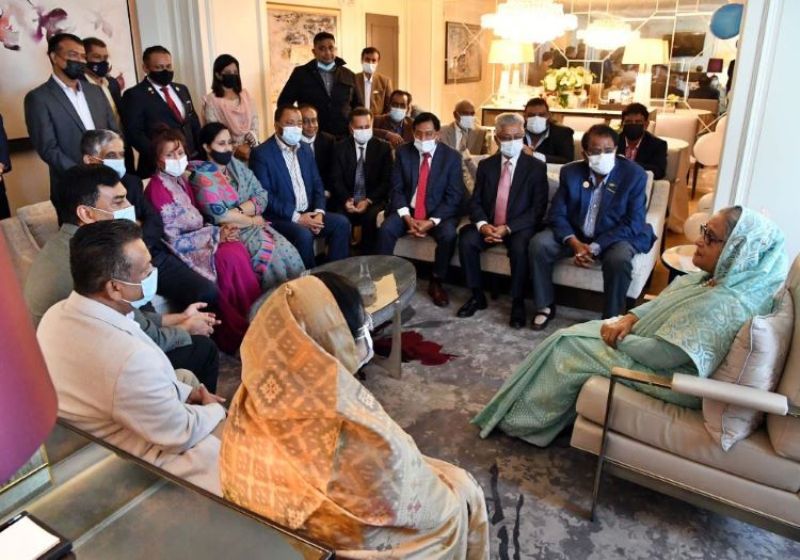 PID
Awami League has ensured an impartial election environment in the country: Prime Minister Hasina
Dhaka, September 30: Regarding the country's election system, Prime Minister Sheikh Hasina said that Awami League has ensured a neutral environment for elections in the country. As a result, people are now able to freely exercise their right to vote.
She also commented that the BNP sabotaged the electoral process in various ways, including creating fake voter lists and disenfranchising people by carrying out acts of terrorism on polling days.
She said these things in an exchange meeting with expatriate Bangladeshis in Washington DC on Thursday local time. Prime Minister's Deputy Press Secretary KM Shakhawat Moon told reporters about the meeting.
In addition to the overall development of the current Awami League government in the country, the prime minister called upon the expatriate Bangladeshis to highlight the irregularities-corruption and atrocities committed against the opposition during the BNP's tenure.
The Prime Minister also said in the meeting, "Bangladesh is moving towards prosperity and is going to get the status of a developed country as the democratic process has been maintained in the country for a long time. We are working together to continue the trend of development."
She also said that BNP has nominated 700 people against 300 seats in the eleventh national election. "People didn't vote for them because of seat trading."
Summarizing the current government's steps to create a favorable environment for investment in Bangladesh, he urged the Bangladeshi diaspora in the United States to invest heavily in the country. The Prime Minister also reiterated her promise that no people of Bangladesh will remain homeless and landless.
The Prime Minister is currently in Washington DC after attending the 77th session of UNGA and other high-level events in New York.
Sheikh Hasina went to London on September 15 to attend the funeral of Queen Elizabeth II of Britain. She left London for New York on September 19 to attend the United Nations General Session. She is scheduled to return home on October 4.