Bangladesh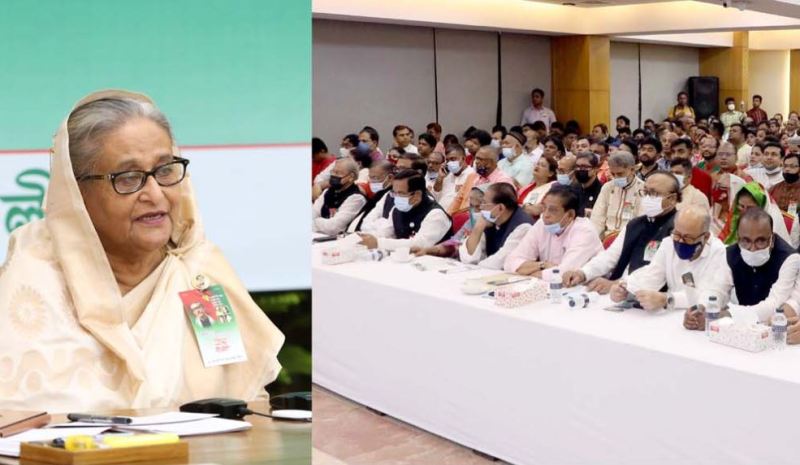 PID
Awami League helping to make a prosperous, developed Bangladesh: PM Sheikh Hasina
Dhaka, June 23: Praising her party, Awami League President and Prime Minister Sheikh Hasina has said that the former is helping shape a stable and strong Bangladesh.
She said that the Awami League has not only given independence, it is also bringing the benefits of independence to the doorsteps of the people. It is working to build a developed and prosperous Bangladesh.
Hasina made the comments while addressing a discussion meeting on the occasion of the 73rd founding anniversary of Bangladesh Awami League on Thursday (June 23). The Prime Minister joined the video conference from Ganobhaban on the occasion on Bangabandhu Avenue.
The Prime Minister said that BNP leaders should be sent to Pakistan. "There is still a picture of Khaleda Zia in a gold shop in Lahore. The gold in that store was her favorite. BNP leaders still hold Pakistan dear in their hearts.
Sheikh Hasina said, "Many people say elections should be participatory. How will the election be participatory? A teams made out of the pockets of military dictators; Whose leaders are fugitives, convicted defendants, will people go to vote them?"
She said, "Khaleda Zia's son Tareque Zia gave the slogan, 75's defeated power. They are the foot soldiers of Pakistan, so they will raise such slogans."
Claiming that the BNP is a factory of lying and fabrication, the Prime Minister said, "Did the BNP leaders help anyone in the floods? They didn't, but sat in Dhaka and spoke. Awami League leaders and activists are distributing food in remote areas. BNP is criticizing it. This is their true character."
The Prime Minister further said, "We have built the Padma Bridge. The BNP is also raising questions about it. What makes the question of corruption! They have committed corruption in various projects. They did nothing for the people. The Awami League has come to build the destiny of the people of the country, not its own. That's what we are doing. We have now brought Bangladesh to a dignified position from the number one position of corruption left by Khaleda Zia. Bangladesh has been recognized as a developing country."
The Prime Minister said, "Now the 20-party alliance led by BNP goes to polls. In the 1970s, the Pakistanis formed a 20-party alliance against the Awami League. If you search in history, you will find."
He said the Awami League has been by the side of the people since its inception. And in doing so, the leaders and workers of the party have had to endure repeated jail-torture. Family members also suffered unbearably.
Sheikh Hasina said the Awami League has never backed down from any election. Participated in the election, also got success. Bangabandhu and Awami League also got the mandate of the people in the elections of '70.