Bangladesh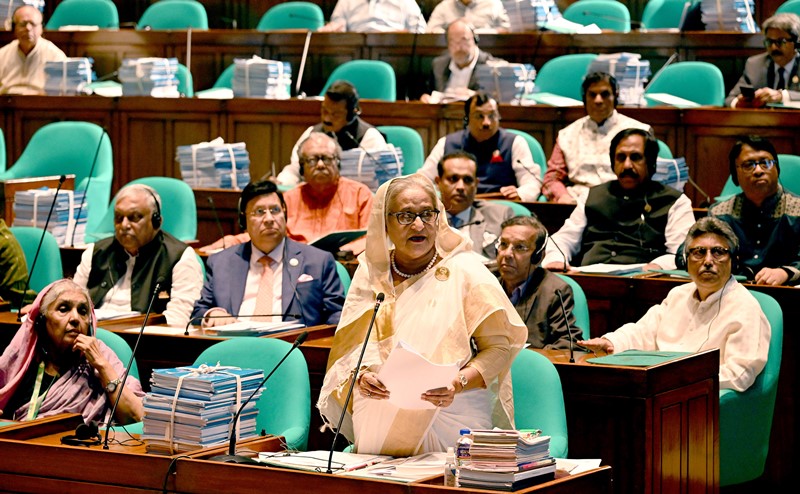 Photo: PID
Awami League is needed to develop Bangladesh: Prime Minister
Dhaka, June 26: Prime Minister Sheikh Hasina said that Awami League is needed for the country's progress.
She said, "We hear many kinds of things. The government will throw it away today. Tomorrow will do this, do that. If Awami League does not come to power, who will implement the status of a developing country today? Show me a man who can do it. Will selflessly work for the country. show a man I have no objection if you can show such leadership. We know that as a developing country we need to develop the country."
The Prime Minister said these while participating in the closing discussion on the proposed 2023-24 fiscal year budget in Parliament on Sunday night.
She said, "I will say this to the people, they have elected us repeatedly, we have been able to serve the country. I have been able to take the country in the direction of development. I have been able to reduce the poverty rate. Today the unemployment rate is only three percent. The digital method has been. As many as 6 lakh freelancers are working. They are earning money from home. We will not be left behind. We will move on. Dark clouds are seen at times."
Pointing out that many people have called this year's budget luxurious, Sheikh Hasina said, "Many people are saying that it (budget) is not implementable. I always hear these words. Some people have a habit of talking negative about everything. They don't see anything well. It is unfortunate for the country. All I can say is that they may have never been to the village, never seen the condition of the village. Our poverty rate has come down in villages. There may be some in the city. Village people do not suffer much."
Pointing out that the Awami League has worked for the welfare of the people of the country whenever it came to power, the Prime Minister said, I have given the budget for the development of the people and the protection of the interests of the common people. Our aim is to make the country self-reliant.
She said, if it was not for the coronavirus and the Russia-Ukraine war, Bangladesh would have been far and far ahead. But I would say there is nothing to fear here. From time to time problems arise. It should not be feared, it should be faced.