Bangladesh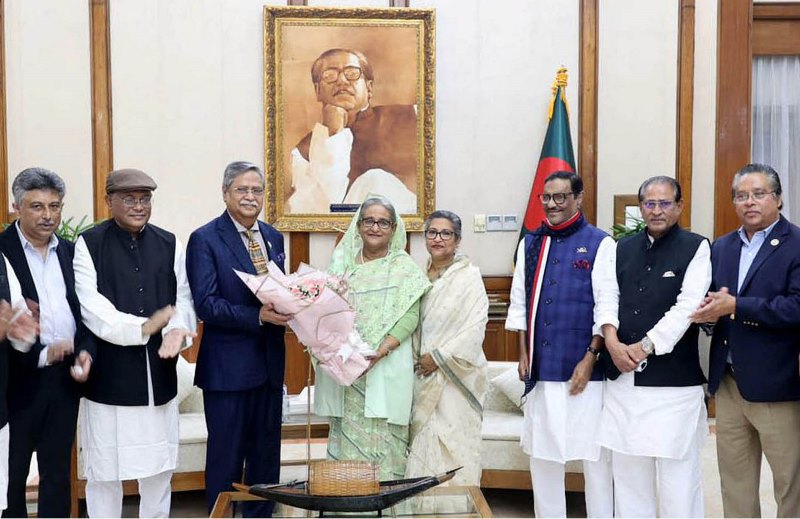 Photo: PID
Awami League nominated presidential candidate meets with PM
Dhaka, February 13: Awami League nominated presidential candidate Mohammad Shahabuddin Chuppu paid a courtesy call on Prime Minister and Awami League President Sheikh Hasina on Sunday.
Prime Minister's Assistant Press Secretary M.M. Imrul Kayes said that Awami League nominated presidential candidate Mohammad Shahabuddin Chuppu had paid a courtesy call on the Prime Minister at Ganabhaban in the morning.
When Shahabuddin Chuppu arrived at Ganabhaban, Sheikh Rehana, younger daughter of Prime Minister and Father of the Nation Bangabandhu Sheikh Mujibur Rahman and younger sister of the Prime Minister, welcomed him with a bouquet of flowers.
At that time Awami League General Secretary and Road Transport and Bridges Minister Obaidul Quader, Awami League Presidium members Farooq Khan, Jahangir Kabir Nanak, and Abdur Rahman, Joint General Secretary and Information and Broadcasting Minister Dr. Hashan Mahmud, Chief Whip Noor-e-Alam Chowdhury, Publicity And publishing editor Dr. Abdus Sobhan Golap, Office Secretary Biplab Barua, Information and Research Secretary Dr. Salim Mahmud were present there.
Earlier in the morning, Awami League nominated former judge Mohammad Shahabuddin Chuppu as a candidate for the country's 22nd presidential election. The Awami League Parliamentary Party (ALPP) in a meeting held at the Jatiya Sangsad Bhawan on February 7, tasked Parliament Leader and Prime Minister Sheikh Hasina with finalizing the nominee for the presidency and she chose Shahabuddin Chuppu.