Bangladesh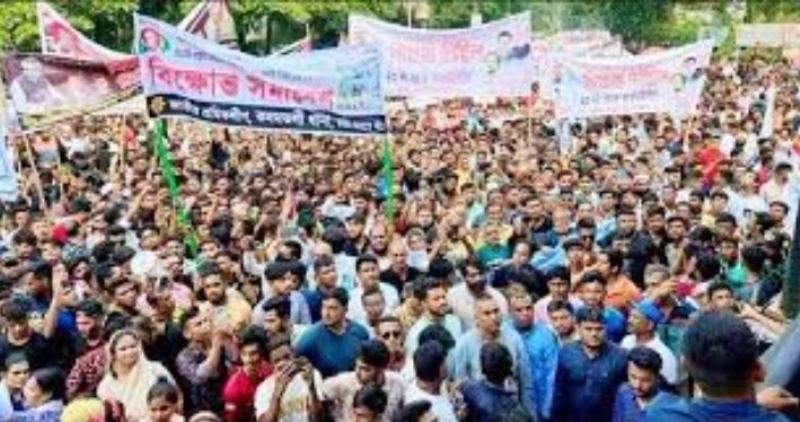 Photo: Collected
Awami League shows strength on the streets
Own Correspondent, Dhaka, August 18: On the occasion of the upcoming election, the ruling party Awami League has shown its strength on the streets. On the anniversary of the August 17 serial bombing, the party gathered a large number of leaders and workers in anti-terror rallies and demonstrations across the country including the capital. In addition, the general secretary of the party, Obaidul Quader, also indicated that.
To make this programme of the ruling party successful in the capital, leaders, and activists started coming to Ramana from different units of the capital and surrounding areas with processions. The participation of allied organizations was also noticeable.
As the day wore on, the area in front of Ramana's Engineers Institution in the capital was filled to the brim. The rally started after 3 pm and lasted till 5:30 pm.
Awami League General Secretary Obaidul Quader, Presidium Member Matia Chowdhury, Dr. Abdur Razzak, Mofazzal Hossain Chowdhury Maya, Jahangir Kabir Nanak, Abdur Rahman, Advocate Kamrul Islam, Joint General Secretary Mahbub-ul Alam Hanif, Dr. Hasan Mahmud, AFM Bahauddin Nashim, organizing secretary Ahmed Hossain, Mirza Azam, SM Kamal Hossain, and Dhaka Metropolitan South Awami League president, brave freedom fighter Abu Ahmed Mannafi, addressed the rally.
Dhaka Metropolitan North Awami League President Sheikh Bazlur Rahman presided over the programme.
Meanwhile, this five-hour-long programme on the busiest roads on a working day has caused extreme traffic jams across the capital. Transport going to the destination via Matsya Bhaban and Shahbagh had to suffer indescribably. Starting from 2 hours to 4-5 hours, some cars had to wait in the jam. It also affected other roads in the capital.
As a result, even in the afternoon, people returning from their offices suffered. Even after covering the news in the secretariat, the journalists could not go to their media houses on time.
Awami League general secretary Obaidul Quader said at the protest rally in the capital that BNP was caught last time by uniting the mess and will be caught again this time. The days of arson, terror, and bombing to power are over.
Dr. Hasan Mahmud said in the rally, "Awami League has come to the streets from today to remove the petrol bomb attackers from the streets. Now BNP is jumping. Their leaping is like a frog in a pond."
Meanwhile, all districts and Upazila Awami League across the country like the capital carried out this programme.