Bangladesh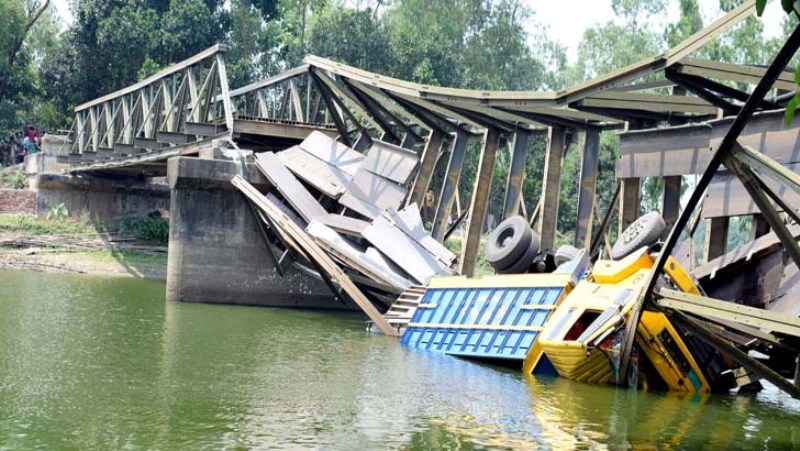 Collected
Bailey Bridge collapses in Rangamati, kills three
Dhaka, January 12: Three people were killed when a truck laden with stones fell into a canal after a bridge collapsed on the Rangamati-Khagrachhari road in Kutukchhari area. The accident happened on Tuesday (January 12) morning.
The dead were Arafat, Zahir and Bachchu. They were drivers, helpers and drivers. They were going to Naniyarchar with stones from the middle ghat area of ​​Chittagong. Immediately after the incident, Deputy Commissioner AKM Mamunur Rashid and other senior officials visited the spot.
Rangamati Kotwali police officer in charge (OC) confirmed the matter. Kabir Hossain said a truck loaded with stones from Chittagong broke into the canal while crossing the Bailey Bridge in Kutukchari.
Rangamati Fire Service Deputy Director Ratan Kumar Nath said, "We came to the spot and recovered the bodies of the two after hearing the news that a truck loaded with stones had collapsed on the bridge. Before we arrived, the locals recovered the body of a man. A total of three bodies were recovered from the spot."
Sumon, a trader of Kutukchhari market, said that when he heard a loud noise in the morning, everyone in the market ran and saw that a truck loaded with stones had fallen into the canal. After a while, the army, fire service and police members came and started the rescue operation. Three bodies were recovered.
Babul Chowdhury, president of Kutukchhari Bazar Businessmen's Association, said, "The truck was heading towards Naniyarchar from Chittagong in the morning. The truck carrying extra goods collapsed along with the bridge and sank in the water. We recovered the body of one person from the spot."
Rangamati Roads Department Executive Engineer Shah Arefin said the bridge collapsed due to overloaded stones being loaded on the truck. The entire deck of the bridge has to be opened and rebuilt. We are trying to start moving fast. Additional Superintendent of Police (Sadar Circle) Tapas Ranjan Ghosh said the bodies of the three victims have been handed over to their families.
As the Rangamati-Khagrachhari road is the only means of transportation, all types of vehicles traveling on this road are closed. Tourists from Rangamati to Sajek or from Sajek to Rangamati have also suffered. The locals are traveling in bamboo rafts.