Bangladesh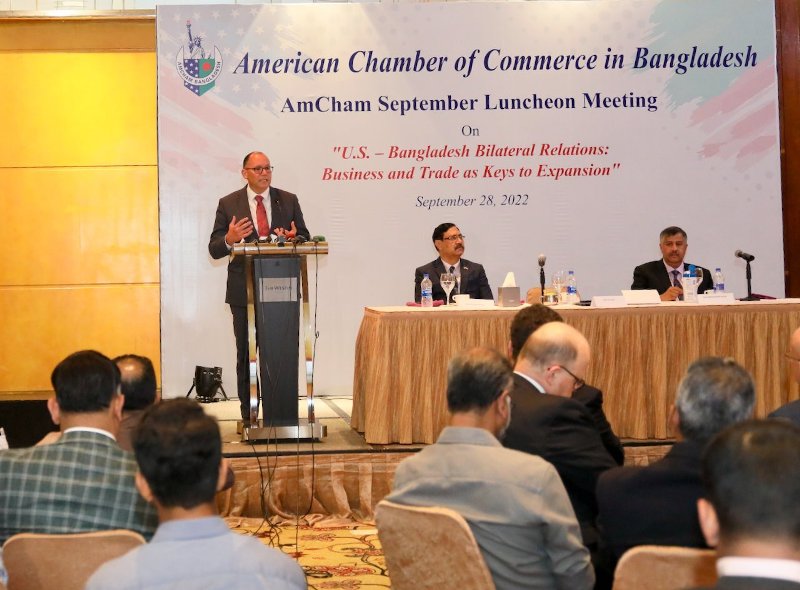 twitter.com/usembassydhaka
Ban against RAB aims at behavioral change, not a punishment: Ambassador Peter Haas
নিজস্ব প্রতিনিধি, ঢাকা, ২৯ সেপ্টেম্বর ২০২২: র‌্যাপিড অ্যাকশন ব্যাটালিয়নের (র‌্যাব) ওপর নিষেধাজ্ঞা দেওয়াটা শাস্তি নয়, এটা তাদের আচরণ পরিবর্তনের জন্য দেওয়া হয়েছে। ঢাকায় নিযুক্ত মার্কিন রাষ্ট্রদূত পিটার হাস এমন মন্তব্য করেছেন।
He also said, "The United States is associated with various organizations for security cooperation in Bangladesh. It is working. We hope that RAB's behavior will change."
He made this comment on Thursday (September 29) at an event titled Meet the Ambassador at a restaurant in Gulshan of the capital. The program was organized by the Center for Governance Studies (CGS).
In response to another question at the event, Peter Haas said, "Bangladesh joining the Indo-Pacific Strategy (IPS) is not an issue. Because it is a policy. It is a matter of seeing how Bangladesh takes it. Besides, joining the Belt and Road Initiative (BRI) It is Bangladesh's own decision to give. It is up to them which alliance Bangladesh joins."
Zillur Rahman, executive director of the Center for Governance Studies, conducted the program.