Bangladesh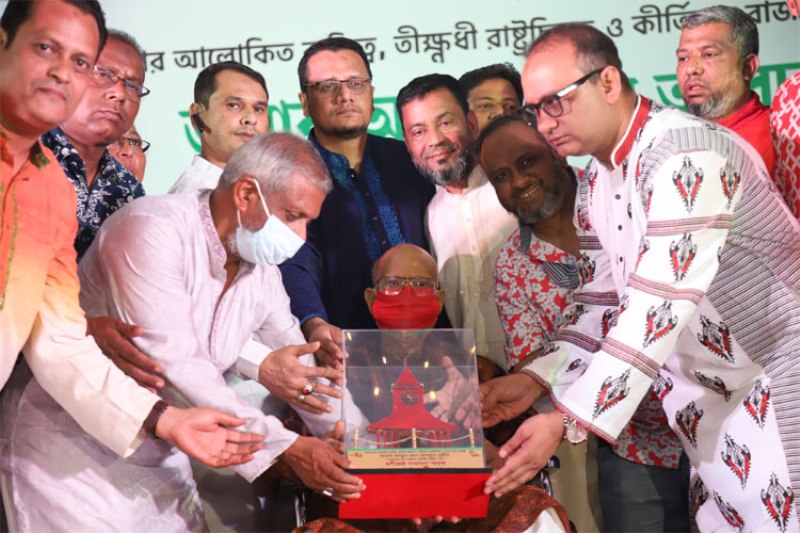 Photo: Collected
Bangabandhu is a great man in the history of Bangladesh
Own Correspondent, Dhaka, March 17: Father of the Nation Bangabandhu Sheikh Mujibur Rahman is a great man in the history of Bangladesh. Great human beings are not always born. In the last century, Bangabandhu was the best child and the best leader in the history of Bengali nation.
Abul Maal Abdul Muhith, a linguist and former finance minister, said this while speaking as the chief guest at a cake-cutting ceremony organized by the family of Abul Maal Abdul Muhith at Hafiz Complex in Sylhet on Wednesday (March 16) afternoon. The event was organized on the occasion of Bangabandhu Sheikh Mujibur Rahman's birth anniversary and National Children's Day on March 17.
The former finance minister further said that Bangladesh had gained the glory of an independent country in the world today as Bangabandhu was born. We as a nation are fortunate to have a leader like him. At the same time, he said, Bangabandhu's daughter Sheikh Hasina has now been able to lead Bangladesh and build a developed and prosperous country.
Abul Maal Abdul Muhith expressed his respect and gratitude to Bangabandhu on his birth anniversary. At the same time, he called upon all to work in unity to build Bangabandhu's golden Bengal.
Acting President of Sylhet District Awami League, former Member of Parliament Shafiqur Rahman Chowdhury, President of Sylhet Metropolitan Awami League Bir Muktijoddha Masuk Uddin Ahmed, General Secretary Prof Zakir Hossain addressed the function. Eminent physician Prof. Dr. AKM Hafeez spoke on behalf of Muhith family.
Former Finance Minister Abul Maal Abdul Muhith did not visit Sylhet for almost two years due to coronavirus infection and illness. However, due to some improvement in his physical condition, the former Member of Parliament from Sylhet-1 constituency returned to his ancestral home. He arrived at Sylhet Osmani International Airport at 7.30 pm on Monday (March 14).
Earlier on March 5, former Finance Minister Abul Maal Abdul Muhith was admitted to a hospital in the capital with illness. After a week of treatment there, he returned to his ancestral home at Hafiz Complex in Sylhet on Monday night.