Bangladesh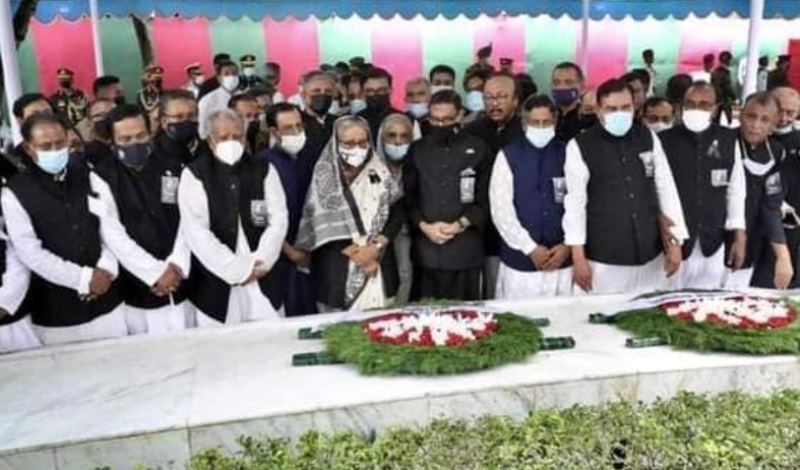 Photo: PID
Bangabandhu's martyrdom anniversary and National Mourning Day observed with respect and love
Own Correspondent, Dhaka, August 16: The 47th martyrdom anniversary and national mourning day of the architect of freedom, the commander-in-chief of the liberation war, Bangabandhu Sheikh Mujibur Rahman, the father of the nation, as well as the National Mourning Day were observed in the whole country, including the capital Dhaka, with humble respect and love.
There was a strong demand among the people, who came to pay their respects to Bangabandhu on the day of mourning, to form a public inquiry commission to arrest the conspirators behind the murder of Bangabandhu and his family and bring them to justice.
There was an atmosphere of mourning in various programmes across the country. Under the leadership of Prime Minister Sheikh Hasina, Bangabandhu's dream of establishing a non-communal democratic Bangladesh and hunger-and-poverty-free Sonar Bangla (Golden Bengal) was the voice of the people. In various programmes, people reiterated to bring Bangabandhu's fugitive murderers back to the country and execute the death sentence.
On the early night of August 15, 1975, some misguided members of the army killed Bangabandhu and his family members at his residence in Dhanmondi. Not only Bangabandhu, Bangabandhu's consort Bangamata Begum Fazilatunnessa Mujib, Bangabandhu's sons Sheikh Kamal, Sheikh Jamal and 10-year-old Sheikh Russell along with daughter-in-law Sultana Kamal and Rosy Jamal were killed one by one by the assassins.
Bangabandhu's 16 family members and close relatives, including his brother Sheikh Nasser, sister's husband Abdur Rab Serniabat, his son Arif, daughter Baby and Sukantababu, Bangabandhu's nephew youth leader and organizer of the Liberation War Sheikh Fazlul Haque Mani, his pregnant wife Arju Moni and Abdul Naeem Khan Rintu and Colonel Jamil, could not escape from the world's worst murder.
At that time, Bangabandhu's two daughters, Sheikh Hasina and Sheikh Rehana, escaped with their lives as they were abroad.
On the occasion of Bangabandhu Sheikh Mujibur Rahman's 47th martyrdom anniversary and National Mourning Day, general people paid tribute to the father of the nation by laying wreaths at his portrait kept in front of the Bangabandhu Memorial Museum in Dhanmondi of the capital on Monday.
In the morning, Prime Minister Sheikh Hasina paid deep respect to Bangabandhu's memory by placing wreaths at his portrait in front of Bangabandhu Bhaban.
A guard of honor was provided by a smart contingent of armed forces on the occasion. Later, Serjeant-at-arms of the Parliament Secretariat placed a wreath at the portrait of Bangabandhu as a tribute on behalf of Speaker Dr. Shirin Sharmin Chowdhury. Chief Justice Hasan Foez Siddique also paid tribute to Bangabandhu's portrait. Later, party president Sheikh Hasina along with central leaders of Awami League paid tribute to Bangabandhu's portrait on behalf of the party.