Bangladesh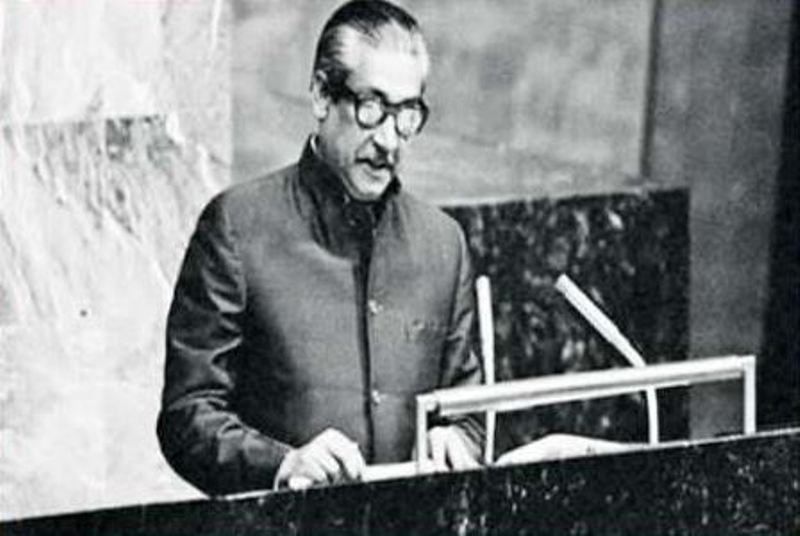 Collected
Bangabandhu Sheikh Mujib's historic First Bangla speech at UN was delivered today
Dhaka, September 25: Today is the historic 25th of September. On this day in 1974, Father of the Nation Bangabandhu Sheikh Mujibur Rahman addressed the 29th General Assembly of the United Nations in Bengali for the first time.
Through Bangabandhu's speech in Bengali on this glorious day, all the member countries of the United Nations officially heard the language, and learnt about Bangladesh, an independent sovereign country.
Bangabndhu was involved in the Language Movement, that demanded Bengali be made the state language of East Pakistan (now Bangladesh). He was the one who brought this language to the world stage by giving a speech in Bengali at the United Nations.
"Standing in this glorious gathering today, I share with you the full satisfaction of the fact that 75 million people of Bangladesh are represented in this Council today. This is a historic moment for the Bengali nation as it marks the culmination of the struggle for self-determination. For centuries, the Bengali people have struggled for the right to live independently and to live as free citizens in an independent country, longing for peace and harmony with all nations of the world," Bangabandhu had said in his speech that day.
"The great ideal that is enshrined in the UN Charter, thousands of our people have made the ultimate sacrifice for that ideal. I know that the Bengali nation is fully committed to building a world that is conducive to the realization of the hopes and aspirations of all human beings for the establishment of peace and justice," he added.
Expressing deep respect to Bangabandhu Sheikh Mujibur Rahman on the occasion of the 47th anniversary of his speech on September 25 this year, the National Committee for the Celebration of the Birth Centenary of Father of the Nation Bangabandhu Sheikh Mujibur Rahman has released an e-poster for publicity in print, electronic, online and social media.