Bangladesh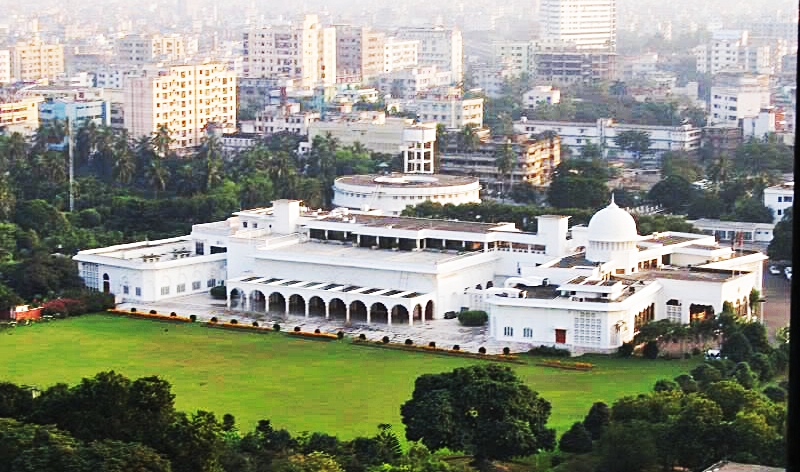 Naira Al Husain/Wikipedia
Bangabhaban getting decked up ahead of opening for tourists
Dhaka, January 25: 'Bangabhaban' is being opened for visitors on a limited basis. For this purpose, the Toshakhana Museum and the Air Raid Shelter House inside the country's most protected palace have been modernized. Walkway is under construction. President Md Abdul Hamid inaugurated the renovated Air Raid Shelter and Toshakhana Museum at Bangabhaban on Tuesday afternoon.
He said, "Usually people cannot come inside Bangabhaban. No one knows anything about what is inside, what is not there. The countrymen can actually learn about our history and heritage here."
Abdul Hamid mentioned Toshakhana Museum of Bangabhavan as one of the signs of colorful history and tradition of centuries. He said, "I believe that the Bangabhaban Toshakhana Museum will play an important role in preserving the rich history of Bangabhaban and presenting it to future generations. Foreign ambassadors and visitors will also be able to get acquainted with our history and culture during their visit."
The President said, "They will also be attracted by seeing the many structures of Bangabhaban. I believe that their attitude towards our Bangladesh will be very high."
On Tuesday, the President visited the various rooms of the Toshakhana Museum. The President's wife Rashida Khanum, State Minister for Culture KM Khalid, State Minister for Housing and Public Works Sharif Ahmed, State Minister for Information and Communication Technology Junaid Ahmed Palak and other secretaries and senior military officers were present.
It is known that once the name of Bangabhaban was 'Manuk House'. Then the Governor's House. A unique building combining Victorian architecture with Islamic and Bengali architecture, this building is now the office and residence of the President. There is no end to people's curiosity about Banga Bhavan, the highest protected palace in the country.
Various activities are being implemented including modernization of Toshakhana and Air Raid Shelter House and construction of walkways to open the Banga Bhavan to local and foreign visitors on a limited scale.
Under the overall supervision of Bangabhaban, this dilapidated Toshakhana was converted into a museum of modern standards. Toshakhana houses gifts and historic photographs from heads of state and government of different countries. It will be open to domestic and foreign visitors on a limited basis. Again the initiative has been taken so that anyone can visit the Tosakhana online from any part of the world and learn about Bangabhavan.